Reflections Abroad
Published September 18, 2017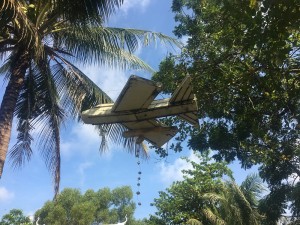 Our program manager, Jasmine Jarman, has recently returned from 4 weeks of travel in South East Asia.She had the opportunity to meet up with our partners at the Metta Karuna Reflection Centre in Siem Reap Cambodia. As an American travelling through South East Asia in wake of the Charlottesville terrorist attack and growing tensions between North Korea and the Trump administration, she felt the impact that peace and understanding made during the Cambodian genocide and civil war.
Read her reflections below:
"When I first began planning my trip to South East Asia, I knew Angkor Wat was on the top of my list. I was aware that Cambodia was a poor country and still recovering from the pain of the war. I almost felt bad as my travel companions came to realize how different this part of our trip would be compared to Bangkok. When we got to our hotel we unpacked and settled into the open landscape. The land crossing was so demanding that we fell asleep at about 8pm. Not jet lag, just pure exhaustion.
Morning came around and I was excited to start seeing something other than Bangkok traffic.
Yut of Ayana Journeys picked us up from our hotel in a tuk tuk and drove us to the Meta Karuna. When we first arrived, we were greeted by the dogs that live on the property followed by Sister Denise, an Australian woman who has been helping at the Meta Karuna for thirty years. The grounds are set up so one can view Cambodia through the eyes of the poor. The first symbol we looked at was the labyrinth, a physical manifestation of the process of centering one's self. The importance of having a perspective on the world from a peaceful point of view. As we walked down the path to the next symbol I looked up- it is against human nature to look up naturally but it's something I always do when I enter a room. The things that humans choose to put above their heads are incredibly meaningful. When I looked up there was a replica of an American plane dropping down land mines.
While the grounds were incredibly peaceful I couldn't help but imagine the fire from war. I thought about the peaceful countryside I saw as I entered Cambodia and heard cries. At the center of this I felt guilt, the US government has caused so much pain and loss yet offers nothing in return. Sister Denise saw me looking up at the small white bombs above my head dance in the morning breeze. She called over a man to explain the various bombs to us, it was Nobel Prize winner Tun Channareth. I listened as he showed us the different bombs that have plagued Cambodia and where they came from.
The US plane loomed heavier over my head as he spoke.
As we continued the tour Sister Denise showed us a collection of pots. Different sizes, different shapes, different colors-she asked we take a moment and choose which pot we feel represented us. I chose a small orange pot because I felt it best represented how I felt in the moment. I felt small and too bright for the rest of the setting. We moved onto the small chapel where they hold multi denominational ceremonies and had a moment to think. Sister Denise left us to reflect and look around the property.
I walked along the path and thought about how scared I had been to travel so far from home. I had put so much energy into trying to make myself feel secure in a country that was not secure for a very long time. The civil war in Cambodia, the genocide, and the scattering of bombs across the country wreaked havoc on the people of Cambodia but places like the Meta Karuna were there to help them feel secure.
Peace exists alongside chaos in the hearts and actions of people willing and able to help. Peace comes in the form of resistance. Organizations like Peace Works Travel and the Meta Karuna educate, inspire, and motivate people to resist apathy and act as engaged citizens. Peace is not always standing idly by, calling for love with words. Peace is organizing allies, speaking out against injustice, pressuring leaders, and staying engaged.