Informing Ethical Citizenship
"How can you ask a man to be the last one to die for a mistake?"
-Secretary of State, John Kerry, Vietnam Veteran, testifying against the Vietnam War to the Senate Foreign Relations Committee in 1971
"How can you ask a man to be the first one to die for a mistake?"
– Senator Rand Paul, arguing against military intervention in Syria, 2013
Visualize it: teaching about Vietnam prevents the next "mistake"– another catastrophic war — from happening.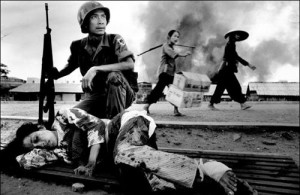 We want the events of history to inform ethical citizenship today. Our trips do that. Whether students are engaged in service-learning projects with children disabled with Agent Orange-related complications, dining in the elegant Saigon villa of Henry Cabot Lodge (Kennedy-era U.S. Ambassador to South Vietnam), or creating art with Khmer Rouge genocide survivors—our educational travel program is designed to open minds through the heart. We travel with compassion, encouraging students to empathize with the local people, policy-makers and soldiers on all sides.
Creative, comprehensive learning adventures in Vietnam, Laos and Cambodia – where Buddhist traditions of forgiveness allow authentic engagement.
Internationally: our students and theirs are building a new generation of lifelong friendships.
Travelers are prepared pre-departure with a Global Online Academy Vietnam War course—accessible at their convenience — taught by our award-winning history teachers. Curriculum is designed to efficiently convey the significance of the people and sites we visit in SE Asia. Meaningful engagement with "living historians" –journalists, survivors, artists, policy-makers and veterans—humanizes the abstract. Students are poised to apply inferential reasoning about our modern day: Our inquiries are framed to encourage critical thinking about contemporary conflicts around the world, and in which ways social entrepreneurship can assist to bridge those differences.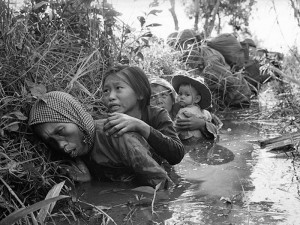 Returning students are like mini-ambassadors in their communities. Change agents.  Inspired to take action and make *something* a better place. Hosting a "Veteran's Day" panel of soldiers from diverse conflicts, creating a "SayNo!UXO" non-profit to raise funds for clusterbomb victims in Laos, screening "The Missing Picture" Oscar-nominated for Best Foreign Film (2013) about the Cambodian genocide, starting a "Wounded Warriors" campus chapter, Inviting John McCain to speak on campus about his experience as a prisoner of war.
Since 2004, student innovations inspired by our trips are, like the casualties of wars, Too. Numerous. To. Count.
"Knowledge is the true organ of sight." (attributed to ancient Indian Panchatantra) Join us in seeing conflict find a better way.