The Experience of a Lifetime
For The Better, Our Trips Change Lives
"Travel is fatal to prejudice, narrow-mindedness and bigotry." – Mark Twain
Students return home with expanded consciousness, energized by their power to understand, work cooperatively, and make a difference in the world. How? We synthesize history and cultural learning, friendships with courageous people living with purpose, and project-based activities that build global citizenship skills. Young people are naturally compassionate; we give them a reason to engage, and the tools for successful impact. Our robust network of local friends are survivors, entrepreneurs, teachers, authors, activists and journalists. Our programs unite travelers with local heroes working for social good. They connect the threads of human experience over time – the intersection between ancient traditions and modern culture – and inspire us to a deeper curiosity. Why do wars start? What happens to people caught in the middle? In what ways can we accelerate the healing process and apply preventative measures for the future? Students are moved to a profound state of inquiry and action, benefiting their communities as a lifelong habit of mind.
How It Works
Step 1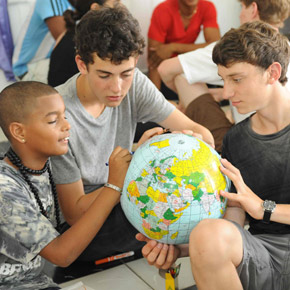 Say Yes
Step 2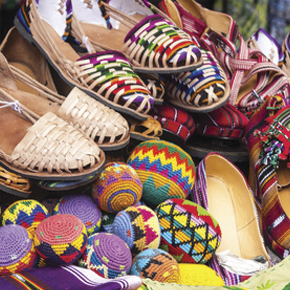 Prepare
Step 3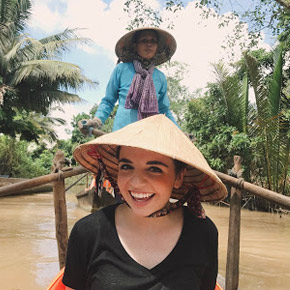 Shape Your Global Citizen
Applying is easy. If your child is traveling with a school program, select the location on the Destinations page, scroll down and click "Take Me to Registration." Select your school program and create an account.
If your child is applying as an Independent Traveler on a Peace Works Program, select the location on the Destinations page, scroll down and click "Take Me to Registration." Select the preferred program and create an account. Rolling admissions will notify applicants of acceptance within 10 days of submission.
Want to plan a customized trip for your family, community group or school? Contact us. What themes would you like to explore in which destination? Want to discuss the options? Call us (805)685-8687.
Essential information, history curriculum and communications are easily managed through your program account web portal. Download course materials, packing lists, travel insurance policies, digital media equipment suggestions, CDC recommendations, and required documents with ease. All-inclusive planning ensures that no unforeseen expenses or concerns catch you by surprise. Our experienced team supports you every step of the way.
PRE DEPARTURE
We prepare our travelers to embrace the opportunity of traveling through living history. Intelligent preparations are at your fingertips on each program's customized web portal. We take pride in ensuring our travelers are knowledgeable guests. Once enrolled, travelers have access to online course curriculum about the history and culture of the destination.
ON THE TRIP
As teachers and parents, our commitment to your kids is profound. Strong organization, thoughtful execution and robust support. We foster healthy group nurturance, prioritizing travelers' emotional and physical well-being throughout the program. Daily activities are designed with best practices for risk management and fun experiential learning in balance. Program leaders carry international cell phones in case of emergency. Communications are reasonably managed so parents can relax, check the daily blog and allow the students to "be present" with the traveling experience without "helicoptering" from home.
COMING HOME
Students return from our adventures with a heightened consciousness, appreciative of their lives and committed to making the most of their new skills for the greater good. We help teachers showcase what your children have learned with photo exhibits, interviews, video screenings, and fundraising events. Our network of change-makers has helped countless students embrace the opportunity to shine around the world.
READY TO LEARN MORE?
Discoveries Matter
Know that your travels make a difference. Understand what happened, how people survive unthinkable challenges and learn strategies for positive change. Celebrate the journey from conflict to contentment through meaningful explorations behind the scenes of the world's most enigmatic nations. Each day introduces travelers to exciting revelations. Climb ancient temples, hike a volcano, savor extraordinary cuisine, boat in floating markets, support handicraft markets, take dancing lessons with activists, veterans, artists, and local heroes. Our adventures expand your consciousness, teach you to innovate fresh solutions to global issues—while having the time of your life.
How It Works
Step 1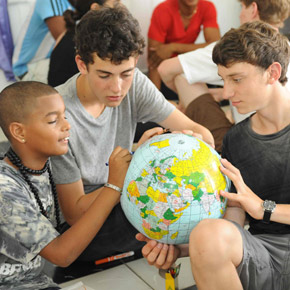 Choose A Trip
Step 2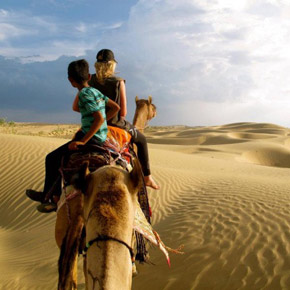 Apply Now
Step 3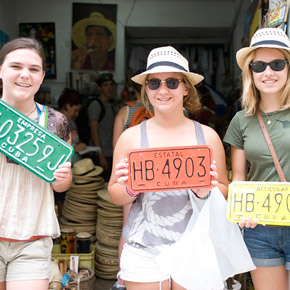 Become A Global Citizen
Where do you want to go? Our travelers experience incredible nations and acquire lifelong skills of engaged global citizenship. Travel with your own teachers on a school program, or join a group of independent travelers on a Peace Works Program. Our 24/7 Host Managers guide our groups with the integrity of family care. Our NGO (Non-governmental Organization) partners provide the context for service-learning, digital storytelling and social entrepreneurship activities. Choose among the destinations and program themes that speak to your heart.
What kind of traveler are you? Traveling with a group from a public or private school? Or as an Independent Traveler on a Peace Works Program? Follow the enrollment directions which apply to you:
Traveling with a Public School
Go to the Destinations Homepage and select your school trip destination. Scroll down the destination page, and select 'Take Me to Registration'. Select your school's program from the menu and create your account. Once your application is received, you will be invoiced for the $800.00 deposit ($300 is non-refundable). Acceptance of the deposit secures your registration, and grants access to all pre-departure resources.
Traveling with a Private School
Follow the registration procedures and payments of your school's guidelines. Upon acceptance, you will be sent a registration link inviting you to create an account with Peace Works. Submit the application with all required documents. Upon receipt, you will have access to all pre-departure resources.
Independent Traveler on a Peace Works Program
Once you've chosen a destination, click the 'Take Me to Registration' button and select the program of your choice. Complete the required materials, and submit your application for review. You will be notified of your enrollment status within 10 days of your submission. Upon acceptance, you will be invoiced for the $800.00 deposit ($300 is non-refundable). Acceptance of the deposit secures your registration, and grants access to all pre-departure resources.
PRE DEPARTURE
Learn about your destination and its historical significance with online learning at your convenience. Our destination course materials are easily downloaded from your account portal. Get interested: how does the destination relate to your home community? Do you know any U.S. veterans who once served there? Are you familiar with any refugees from the nation you'll soon explore? Consider the many connections which link your life to the places on your horizon. Trip preparations and group communications are easily managed through your group account and website portal. Our team is available to assist you prepare intelligently for your adventure.
ON THE TRIP
We're friendly and firm: Fun and focused. Your Host Manager will confirm daily expectations in a group briefing the prior evening. Breakfast is served on site in plenty of time to organize for your day: sunscreen, hat, water bottle, and camera! Lunch and dinner restaurants are selected for their delicious, authentic food and sustainable business models.
Daily Amazement: Each excursion and activity celebrates human ingenuity: we connect with notable locals for insider's experiences revealing the magic of each culture. Whether you're learning to cook ancient recipes, crawling underground through a Vietcong tunnel, hanging out with your pen-pal, or journal writing on the shoreline, each day is balanced with joyful activity and structured reflection.
Heads and Hearts: We use our hearts to open our minds. We use our heads to be present each moment. You'll need to behave responsibly and follow the rules. Health and safety are the number one priority. Our team attends to your well-being, acting in loco parentis (Look it up!) We require positive engagement from all travelers. You'll forge friendships which will inspire you forever – and energize your determination to Be.The.Change.
COMING HOME
It's not just a trip, it's a transformation. Our peace-building toolkit teaches you how to engage as effective citizens. Write press-releases, host video screenings, or conduct fundraising-events supporting a cause close to home. Connect with other students, generate ideas and make your vision a model for others. Share your projects with us. We love to celebrate our travelers' good works.
READY TO LEARN MORE?