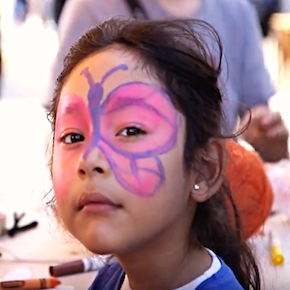 Crossing Borders: San Diego/Tijuana
Our program invites students and teachers to understand the US – Mexico Border surrounding the San Ysidro port of entry in San Diego through a "Human Geography" lens. How is it that commodities and revenue flow with relative ease between Mexico and the U.S. but the people are filtered through a militarized process? What does it mean to be a citizen of the United States? How can a "nation of immigrants" reconcile its identity with the contiguous land mass and…
Our program invites students and teachers to understand the US – Mexico Border surrounding the San Ysidro port of entry in San Diego through a "Human Geography" lens. How is it that commodities and revenue flow with relative ease between Mexico and the U.S. but the people are filtered through a militarized process? What does it mean to be a citizen of the United States? How can a "nation of immigrants" reconcile its identity with the contiguous land mass and immutable demographics of our populations? What do the locals say? What systemized efforts at transcending injustice are in place? Are there successful models for creating a mutually prosperous future?
People to People: Local Community
Our programs allow students to meet with voices from all sides of the issues: Border Patrol, Anti-immigrant militia leaders, bi-national clergy, activists, artists and administrators. We visit President Trump's prototype "Walls," walk both sides of the border fence, serve food in refugee/deportee resource centers, and understand the unique evolution of the "national frontier" united us and our southern neighbors. We train students in the effective use of their documentary speech rights using the Five Freedoms of the First Amendment (Press, Assembly, Religion, Speech and Petition). Students can exercise their privilege to effectively amplify voices from both sides of the CA-Mexico Border, and bring greater understanding to the complexities of the immigration issue from a foundation of factual observation.
History Matters: Learning From The Past
Travelers learn the history of the U.S.-Mexico relations, analyzing how foreign policies, including NAFTA, have defined Latin American migration patterns over the last century. How does the Treaty of Guadalupe Hidalgo, the Bracero Program, the industrialization of agriculture and the indigenous culture over time shape the demographic realities of today?
Students are encouraged to challenge cultural prejudices surrounding notions of citizenship and national identity. How might systemic economic policy changes inhibit the phenomenon of desperate human migrants seeking refuge in the United States? By comparing models of hemispheric economic cooperation around the world, students may reimagine a trans-border region stabilized through equitable relationships on the global, regional and local levels.
Click here to learn about free travel opportunities for teachers!

"After visiting the Killing Fields, we restored our hope with a volunteer project teaching English to kids. I understood how humans can heal from tragedy: We must all invest in the hopes of a new generation."
Alex Greer, Junior, Laguna Blanca School

"For Amy, this trip was nothing short of life-changing. A million thanks to you and the staff of Peace Works Travel for arranging this wonderful, fantastic, amazing opportunity. Every teenager should do this at least once during high school."
Janice Reinhart, Thacher School Parent, 2011

"The most meaningful experience of the trip for me was visiting the Tuol Sleng prison in Phnom Penh. I founded the Service-for-Soldiers club on campus as soon as I got home. The least we could do is give back to those who prevent these evils from happening ever again."
Kai Dailey, Laguna Blanca School

"Our students asked such great questions that integrated their thinking on policies and personalities. It's clear they are connecting the various stories of Vietnam together in a more comprehensive picture of the war."
Eric Taylor, Teacher, Francis Parker School

"Volunteering at the Peace Village was life-changing for my students. I am forever grateful for this experience."
Cheri Gaulke, Visual Arts Teacher, Harvard-Westlake School
Reserve my space
If you're ready to register for a scheduled program, create your account and enroll now.