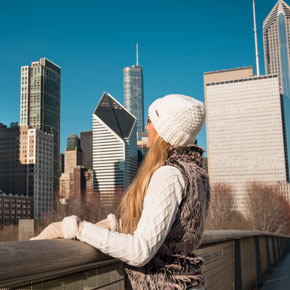 Chicago Trip Overview
Chicago provides a wealth of history, music, food, art, literature, sports, theater, architecture, nasty politics, mafia, gentrification, and innovation to explorers, young and seasoned. Known for a lively jazz and blues music vibe and wildly popular sporting events "bucket list" scene, Chicago's dynamic exterior conceals a rich interior landscape. As the city pulses with sensory delights, there is a deep undercurrent of art, activism and empowerment at play. An exploration of the literature, history and modern issues in one of…
Chicago provides a wealth of history, music, food, art, literature, sports, theater, architecture, nasty politics, mafia, gentrification, and innovation to explorers, young and seasoned. Known for a lively jazz and blues music vibe and wildly popular sporting events "bucket list" scene, Chicago's dynamic exterior conceals a rich interior landscape. As the city pulses with sensory delights, there is a deep undercurrent of art, activism and empowerment at play. An exploration of the literature, history and modern issues in one of America's most iconic cities invite us to deep awareness of ourselves.
History Matters: Past is Present
Since the 1893 World's Fair, Chicago has been known as a global city, a thriving center of international trade and commerce which led to the great migration from the South. A place where people of every nationality come to pursue the American dream. Our experiential learning is anchored in award-winning literature-turned cinema which dramatizes Chicago in the popular imagination for 21st century learners: Devil in the White City by Erik Larson and The Hate U Give by Angie Thomas.
People to People: Local Community
Teachers may choose from itineraries grounded in experiential learning balancing darkness and light showcased by our non-profit partners. Our program connects students with change-makers in the spaces intersecting the academic and practical life from people of all walks. Popular points of interest include Hyde and Millennium Parks, The University of Chicago, The House of Blues, Hull House, Chicago law enforcement initiatives, Urban arts projects of Theaster Gates, the Obama Foundation, Wrigley Field, The Art Institute of Chicago, and several other world-renowned institutions. Visit with the student Peace Warriors of North Lawndale College Preparatory School, I Grow Chicago whose mission is to 'heal the hood,' award-winning journalists of WEBZ 91.5 Chicago's podcast '16 shots," University of Chicago students and faculty, local artists, athletes, musicians and more. Ultimately, we introduce students to explore Chicago with an examination of our own Americanness: migration and industry, race and identity, artistic excellence and the struggle which defines creative pursuit of our full potential in a democracy.
Click here to learn about free travel opportunities for teachers!

"After visiting the Killing Fields, we restored our hope with a volunteer project teaching English to kids. I understood how humans can heal from tragedy: We must all invest in the hopes of a new generation."
Alex Greer, Junior, Laguna Blanca School

"For Amy, this trip was nothing short of life-changing. A million thanks to you and the staff of Peace Works Travel for arranging this wonderful, fantastic, amazing opportunity. Every teenager should do this at least once during high school."
Janice Reinhart, Thacher School Parent, 2011

"The most meaningful experience of the trip for me was visiting the Tuol Sleng prison in Phnom Penh. I founded the Service-for-Soldiers club on campus as soon as I got home. The least we could do is give back to those who prevent these evils from happening ever again."
Kai Dailey, Laguna Blanca School

"Our students asked such great questions that integrated their thinking on policies and personalities. It's clear they are connecting the various stories of Vietnam together in a more comprehensive picture of the war."
Eric Taylor, Teacher, Francis Parker School

"Volunteering at the Peace Village was life-changing for my students. I am forever grateful for this experience."
Cheri Gaulke, Visual Arts Teacher, Harvard-Westlake School
Reserve my space
If you're ready to register for a scheduled program, create your account and enroll now.