Travel For Free With Your Students
Become a part of a life-changing experience that not only strengthens the bond between student and teacher, but also narrows the gap between local and global awareness. Our educational student travel programs are different. Peace Works Travel offers socially-conscious education abroad in countries healing from history. How do we teach young people about the complex issues surrounding war and peace? We believe in radical empathy: experiential learning without violence inspires ethical citizenship. Students acquire skills for transforming awareness of the world into opportunities for positive change. Our travelers learn what happened, how to make better choices, and how to innovate solutions for the future. Our programs teach the human, environmental, economic consequences of conflict—and the riches of peace. Discover just how far your lessons can reach with this opportunity of free travel for teachers.
Lead Life Lessons:
Give your students the opportunity to innovate solutions to global issues through meaningful travel. We provide cultural and historical curriculum for each destination to ensure your travelers are knowledgeable in advance of arrival. Teachers may choose academic areas of emphasis from our program themes. Each trip includes the opportunity to connect electronically with local students you will meet in your destination. Our connectivity with the nation's locals begins pre-departure, creates meaningful insider's experiences during travel, and fosters positive action upon re-entry home.
Tangible Impact
Our travelers return knowledgeable and impassioned to innovate change. Inspired by their expanded awareness and confident in their capacity to make a difference, our travelers have created socially-minded enterprises on their own volition: compelling documentary films, issue-based community-organizing, NGO fundraising campaigns, and non-profit development. Check out our student videos of exceptional student projects.
Let's Make Peace Work Together
We each have a role in our work for a better world. As an educator, your focus is to connect with your students. Our work is to support your educational travel experience with logistics, curriculum, registration, and risk management. Your group will enjoy a dedicated portal on our website for easy document management and communications. We deliver chaperone binders with all your group travel information within 30 days of departure. Click on the Referral Opportunities tab above to learn more about free travel opportunities for teachers.
READY TO LEARN MORE?
How It Works
Step 1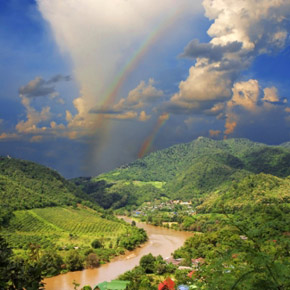 Choose A Trip Program
Step 2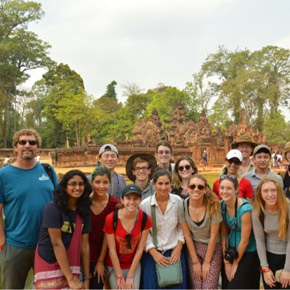 Enroll Students
Step 3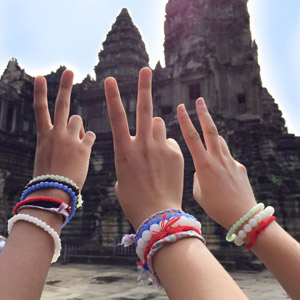 Enjoy Our Support
Choose from our insider's programs in nations healing from history on dates that work for you. We help you select the best itinerary for your curricular vision. All-inclusive pricing is clear and reliable. We build your itinerary, provide a detailed budget, and support your administrative approval process. Calendar and deadlines are managed easily on your dedicated web portal. We secure the best available group flights from your preferred gateway city. Need suggestions? Want to customize? Interested in free travel for teachers? We'd be delighted to speak with you.
Recruiting students is easy with the videos, flyers, and marketing support we provide. Enroll eight students and your spot is secured. For every, six additional travelers a free co-chaperone is included. Your dedicated website portal makes it easy to direct inquiring students and families to a no-hassle registration. Whether you're working through your school's abroad office or organizing this adventure on your own, we make it easy for parents to feel confident about our educational student travel opportunities.
PRE DEPARTURE
Once enrolled, travelers and their parents have access to their own web portal and personal service for account questions. Billing, cancellation policies, enrollment parameters, travel insurance and flights: our account specialists handle the paperwork.
ON THE TRIP
A local Peace Works Host Manager travels with your group 24/7, facilitating daily activities so you can enjoy the discovery worry-free. All travel logistics are confirmed with your values in mind, clearly detailed and organized for maximum impact. Our programs offer controlled spontaneity: very little is left to chance. In the case of an urgent issue, comprehensive emergency services are provided to support your group at all times. All trip leaders receive generous stipends to recognize the time, care and dedication you invest in your students' experience.
COMING HOME
Students celebrate their learning by showcasing their engagement. We connect "global to local" citizenship through a student-activist tool kit. Travelers understand how to transform their learning into practical action, and make a difference in the world. How to write press-releases, host video screenings, and launch awareness-raising campaigns? Students return energized to apply their learning in tangible ways. Our network of peace-builders are models for amplifying your positive work beyond the travel program.
READY TO LEARN MORE?
Explore iconic destinations, travel responsibly for mutual prosperity, and become informed, ethical citizens of a global community.
Peace-Building Through Referrals
Are you looking for opportunities of free travel for teachers? Are you interested in travel grants for teachers? Do you know educators who want meaningful travel experiences with their students? Referring teachers who lead groups of students on our program earns rewards: cash bonus or a free travel scholarship to a low-income student.
Our socially-conscious educational student travel programs foster social progress for our travelers and NGO partners. Help us grow our network of kindred-spirit teacher leaders, and increase the peace.
How It Works
Step 1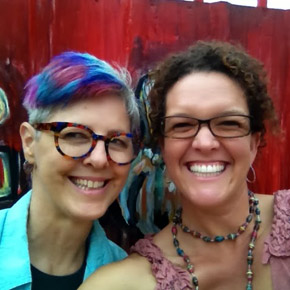 Tell Us About Yourself
Step 2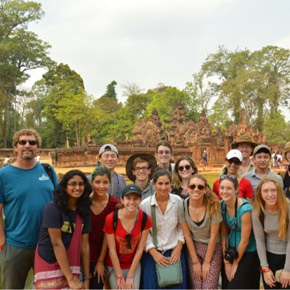 Find Travelers
Step 3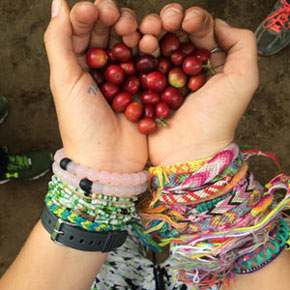 Earn Rewards
Are you interested in learning more about free teacher travel programs? As a teacher familiar with the Peace Works mission, you can speak with integrity about our work. We'd appreciate an introduction to other teachers you know who share our values. For every referral you make to a teacher leader who successfully fills a trip program with 8 or more students, you earn rewards.
Supporting your teacher referrals with ideas for student-recruitment, curriculum-enrichment and peace-building projects makes a big difference. Student film festivals, campus clubs and extra-curricular organizations are great places to find exceptional program participants and trip leaders.
Your Enthusiasm Works
In addition to reaching out directly to those who may be interested:
Share posts from Peace Works Travel Facebook, LinkedIn, and Instagram.
Celebrate Peace Works Travel student projects everywhere: online teacher forums, NAIS and LinkedIn.
Post your pictures, stories and inspirations from your travels with us.
Reach out to colleagues from other schools or past educational programs.
Be a guest blogger in our monthly newsletter.
Allow our student interns to interview you for a feature article.
By connecting us with like-minded teachers, we expand our network of educators committed to meaningful travel for purpose beyond ourselves.
At 30-days pre-departure, collect your cash rewards or donate them to the student traveler scholarship non-profit (Friendship Fund, 501©(3)) and retain the tax deduction. The choice is yours. There are no limits to referral reward introductions.
A member of our team will contact you after the 60-day pre-departure deadline to confirm participant numbers, and verify your preference for referral reward: cash or scholarship donation.
READY TO LEARN MORE?