Wednesday, May 9, 2012
ABC follows "The Girl in the Picture" and Peace Works Travel to Vietnam
In January, Kim Phuc, the Vietnam War's famous "Girl in the Picture," teamed up with Peace Works Travel in Santa Barbara, where she shared her story of the accidental bombing, the photograph and her journey to forgiveness. A generation of people will never forget Nick Ut's 1972
Life Magazine
cover: President Nixon once doubted its authenticity, and historians credit the photo with helping end the Vietnam War. Now, almost 40 years later, the photo, "The Girl in the Picture," still symbolizes what words cannot convey about the horrors of war and instructs us on the lasting impact of photojournalism.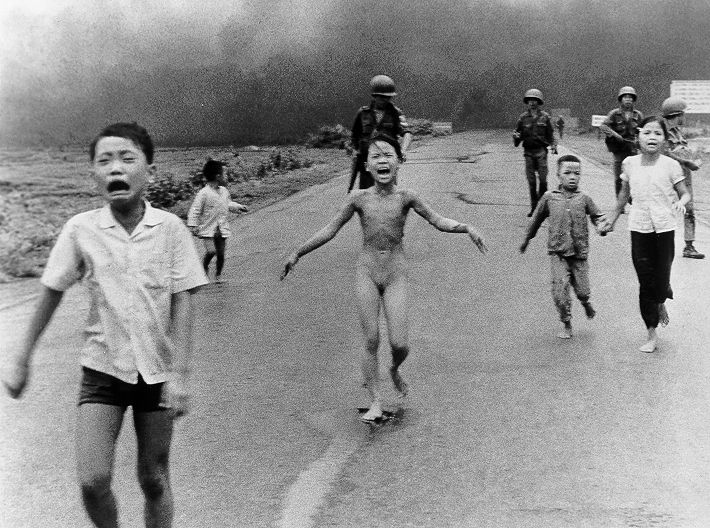 Our journey to forgiveness continued in March when Pulitzer prize-winning photographer Nick Ut and Vietnam War correspondent, Chris Wain joined PWT in Vietnam, where they and a group of our students revisited the site where the story began and the photograph was taken.
ABC News
video journalists David Ono and Jeff MacIntyre also accompanied the group to shoot a documentary to commemorate Nick, Kim and the photo that changed both their lives. The first segment of the footage, released May 8
th
and streamable here
, explores the role of educational travel in promoting peace through global consciousness. David Ono and Jeff MacIntyre follow PWT students as they visit Kim's family home, the Coadai Temple and the infamous highway (Route One), where Kim Phuc first met Nick Ut and Chris Wain.
It was almost 40 years ago, when on June 8th, 1972 South Vietnamese soldiers dropped napalm on the small village of Trang Bang, nestled in the countryside about 25 miles Northwest of Saigon. The firebomb struck the Caodai temple, where many villagers had taken refuge, surrounding them in a wave of liquid fire. Among the children who emerged screaming from the firestorm was a 9 year-old girl (Phan Thi Kim Phuc), her clothes ripped off and body ablaze. The children fled down Route One towards a group of journalists who had been stationed only 400 meters from the explosion. Among them, photographer Nick Ut, who just had time to snap what would become one of the most haunting images of the war, before rushing Kim to the hospital to save her life.
"Forgiveness made me free from hatred. I still have many scars on my body and severe pain most days but my heart is cleansed. Napalm is very powerful, but faith, forgiveness, and love are much more powerful. We would not have war at all if everyone could learn how to live with true love, hope, and forgiveness. If that little girl in the picture can do it, ask yourself: Can you?" –Kim Phuc, "The Girl in the Picture" from "The Long Road to Forgiveness"
It's hard to imagine how a story that began as a lesson in the abominations of war could evolve into a saga of friendship and forgiveness, but Kim Phuc has demonstrated that love is much more powerful than hate. Kim and Nick remain close friends to this day, and as time progressed, Kim began to see the image as a powerful gift; she could take control of its symbolism and use her profile to promote peace. Now Kim Phuc is a UNESCO Goodwill Ambassador for a Culture of Peace and has become an international symbol of civilian suffering brought on by war. Kim established her non-profit, The KIM Foundation International to help children who are victims of war. Children who, like herself, needed treatment to care for wounds, burns and broken bones inflicted during conflict.
At PWT, we believe that it is essential for youth to have a global consciousness in matters of war and piece. As Kim explained in "The Long Road to Forgiveness," love, hope and forgiveness are the most powerful weapons in the fight towards peace. Armed with cameras and open hearts our students joined Nick Ut and Christ Wain on a journey into Vietnam's living history. By revisiting the places of past atrocities, by putting a face to the once faceless "enemy" and victim, Ut and Wain shared with us an invaluable lesson in the power of both journalism and friendship. 40 years later, long after American troops receded from the beaches of Danang, Nick's photograph and Kim's message resonate as loudly and as clearly as ever before. Violence is not the only way to leave a lasting impact; words and images can reveal truths that even bombs and bullets cannot destroy.