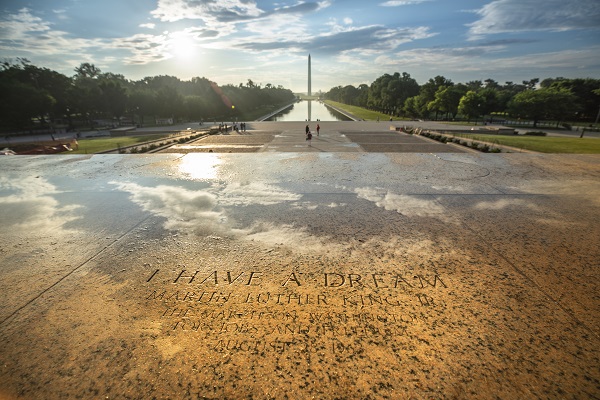 Monday, January 27, 2020
MLK Jr. Day All Year
Expressing enthusiasm for a short week, my student chirped "I wish it were MLK Jr. Day every Monday." I agreed, but not for the same reason. Ideally, every week creates space for intentional reflection on the truth of Dr. King, and our complicated relationship with realizing his — our — American Dream of equality. Educational travel with my students to his memorial was a teaching moment I'll never forget. I called out Mike Pence, words vocalized before realizing that the menace of my question occasioned a physical push from Secret Service. "How Will the Trump Administration Support Martin Luther King's ideals?" 
The challenge of teaching authentic American history and comprehending how far we are yet from King's dream is a matter of significant cognitive dissonance. In her highly acclaimed book, A More Beautiful and Terrible History, Jeanne Theoharis illustrates how the romanticizing of Dr. King and casting the legendary civil rights movement as a success story of the past is problematic. It obviates the need for continued civil rights vigilance and denies the experience of those who still live with the legacy of Jim Crow: Voter suppression, police brutality, redlining, economic disenfranchisement, and racism.
I'm committed to teaching the Martin Luther King Jr. legacy which resonates in my history classes. MLK Jr. deplored the three evils of racism, militarism, and materialism. It was upon this foundation that he spoke out against the Vietnam War as an unjust capitalist abomination. I love being a history teacher, fostering a critical understanding of those three evils through classic classroom instruction, experiential learning, and educational travel. Let's show students how our nation's work is yet incomplete, and how they can continue the realization of Dr. King's dream.

Inspiring examples of this work in practice are found in the Peace Warriors of North Lawndale College Prep School in Chicago, Illinois. An excerpt from their superior model, living the work of Martin Luther King Jr. will inspire you throughout the school year.