Wednesday, April 9, 2014
Mira Costa School - Seeds of Change
Outside of the busy, jam-packed streets of Phnom Phen lays the Montessori school which we visited today. The owner of the schools also operates the guest house that we're staying at in order to raise funds in her quest to education the children of Cambodia. The Montessori is made to be self-sustaining, using left over food for re-purposing into gas, a thatched roof and walls to keep the school cool, and the future planned installation of solar panels.
Upon the start of our visit we met the owner as she explained her story and connections to the Khmer Rouge. She told her struggle to operate the school and her solutions she has used to try to fix some of the glaring issues with keeping her dream a float. She has used web sites that were the Cambodian equivalent of KickStarter. With this she has been able to build on to her school and add more facilities. We ate a Khmer lunch made by some of the volunteers and workers at the school. Many of the people there stay long periods of time and are from other countries and continents. One of the workers, an Australian, stays with his wife and has a daughter who is enrolled in the Montessori.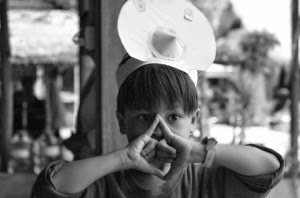 Boy with mask.
Blazing in the hot Cambodian air, the sun gleams an orangish tint as the sound of dogs barking can be heard faintly in the distance. Students dig and churn cement for foundations as others joke and play with the children, making them laugh. As the wind blows faintly through the walls of the school we played with the children, and gave them their donations. The teacher read aloud the names of the gifts in English, to teach the children vocabulary. The children perform a rendition of "The Red Hen" to show how much English they have learned. I've never seen so much joy from people who have so little.
Cambodia Student Trips,Education Travel,Educational travel programs,Global Community,Global Education,Live Learn Travel,Mira Costa Cambodia 2014,Peace Works Travel,Student Community Service