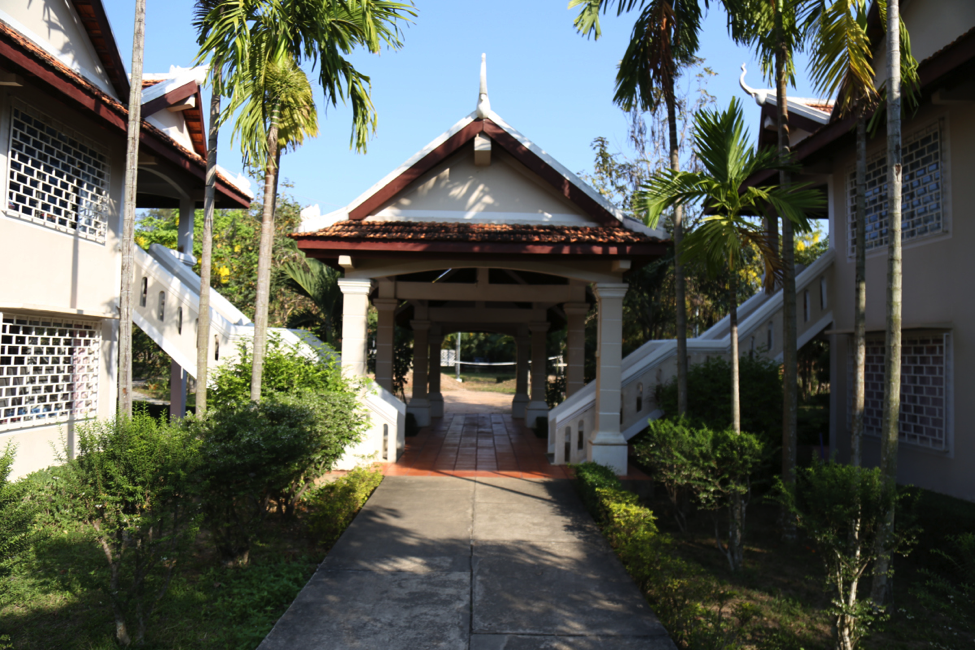 Wednesday, May 16, 2018
Packer Collegiate - Cambodia Rising 2018
Day 1 We woke up to the birds chirping and sun shining through our mosquito nets and open glass shutters. We were greeted into the unwalled canteen with ramen, crunchy yet fluffy, French bread, honey and rambutan (saomao in Khmer). We ate together in our group of eleven students, where Leila Narisetti (C'20) ate 20 rambutans, a lichee relative with pinkish red spines encasing the succulent bit of heaven, before 10 o'clock. We were then lead through a beautiful tour of the Metta Karuna, a reflection center, with one of the founders Sister Denise, a Jesuit nun. She guided us through the various symbolism of the property as it is own by the Jesuit Refugee Service. Soon after, we began our daily Khmer
with our trip facilitators Sarah and Untac, where we learned how to greet a new face.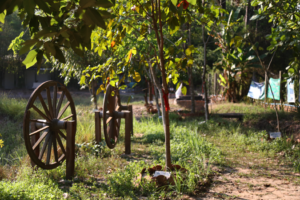 The Khmer formally greet each other with jumreap suwa accompanied by a low sompea. Our pissahclass (Khmer for language) was followed by an introduction to Cambodia through statistics and cultural norms. We learned that fifty percent of the country is younger than 25 years old and eighty percent reside in rural areas. Khmer standards do not permit the touching of others heads as it is holy and the pointing of the soles of
the feet as they are closest to the soil. It was finally lunch time, and we headed to Khmer Kitchen in tuk-tuks, an established tourist favorite. We enjoyed passion fruit shakes and a very hot Cambodian chili bathed in soy sauce. Ethan Rothschild (C'20) bravely snacked on a seed ladenpiece of chili and proceeded lose control of his sweat as his body knew not how to react. We soon made our way to the close by pagoda where we received a water blessing from a Buddhist monk. We learned about buddhism in Cambodia and how student monks drink RedBull to keep awake after only two meals a day. We concluded our first day by meeting our pen pals who we have been communicating with since February. We enjoyed a nice meal together getting to know each other followed by a quick trip to the night market.
Day 2 
It was March 18th and my day started off not how I expected. I was told to be ready at 6am to go running, but somehow I ended up waking at 4:45am thinking it was an hour later. I had just finished 33hrs of travel the day before, which included going through several time zones. As you can tell I was pretty exhausted by now. What time is it again?! Completely confused and tired, I woke up thinking I should go back to bed. Yet, the prospect of being in a new beautiful country and continent and having a chance to explore it, I decided it was worth it crawl out of bed. To my surpriseI got dressed and ready without waking up my four other roommates—PHEW! I was a bit nervous going into the run as I had never stepped foot in Cambodia (or Asia for that matter) and here I was getting ready to go running—with a guy I just met a couple hours ago.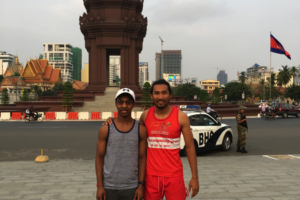 One of our tour guides for the trip was an avid (and extremely accomplished) cyclist and a general fitness enthusiast. To my great relief, Untac had eagerly agreed to go running with me in the mornings whenever possible. When I was first introduced to him, we decided that Sunday would be our first day. I instantly was filled with anticipation for the sights I would see and how I could see Siem Reap from the perspective of running. I believe that running in a foreign country allows you to see the minute details that you would normally miss in a bus (or a tuk tukin the case of Cambodia) and really see the neighborhood at a closer angle or paths that you might not be able to otherwise. Not only can you soak up more details, but running is a worldwide endeavor with its very own culture. Running in different countries allows you to connect with the runners there and see their world through their "lens".
Now back to the run. After all the obstacles I faced, I finally found Untac waiting for me and this time it was at the RIGHT time. I was greeted by his warm personality and an inviting smile. I was so nervous that I almost forgot Untac's name when greeting him—YIKES! Nonetheless, we set out as we had planned to do. Untac told me that our route would consist of running around the neighborhood and the main road. Not knowing what that meant, I simply nodded and smiled back. We started our run by turning left from the Metta Karuna onto an asphalt road. I was quickly reminded that I was in a completely different country when Untac stopped me from crossing the road as a cyclist almost hit me. Oh God. Inthat moment I realized there weren't any well-defined sidewalks on the current road. However, that didn't matter as it was early in the morning and drivers in Cambodia are extremely good at reading the road, as I would later learn.
As I began to run, I was immediately struck by the landscape in front of me. There were houses on the left and I remarked on how different they were to American houses. The houses are best describes as "shack-like" that weremostly built with exposed cement sections and tin walls and roofs. At one of the houses, there was a restaurant situated with red chairs with the smell of noodles wafting through the air. Shifting my gaze to the other side of the road, I noticed a large, open field on the opposite side. A nice breeze came with this view of the field, which was greatly appreciated along with a stunning view of the Cambodian sun above the horizon. The Cambodian sun I saw somehow managed to be the most brilliant orange sun I've ever seen in my life. It was looking at the sun that I got a moment of perspective and realization: my feet were currently running over new soil—Cambodian soil—and I was breathing air in a completely different part of the world.
When I got over the surreal moment of that realization, I noticed at the end of the field there was another house, but this house was different then rest on the street. It still had an older vibe, but it was more upscale consisting of two stories with a brown exterior. I remarked on the disparity between the houses alone on the same street but I thought nothing more of it at the time. Soon after passing the brown house, Untac and I came to "T-dead end" with the path splitting to the right and left. We were approximately about 5ish minutes (and about .3 miles) into our run and I was already starting to see the treasures/sights/gems that Siem Reap had to offer; the day started to look up for me despite still being exhausted. As we approached the end of the road, a person riding a bike started speaking Khmer through a loudspeaker that pierced through the air. I'm positive that this could be heard for blocks upon blocks and Untac informed me that we were turning right and upon making the turn, I saw a long stretch filled with sand. To call it a road is not really feasible as it really was comprised entirely of sand. There were a lot less houses on this path with tons of open space instead.
We then ran past the large open field (which gave a great view of the neighborhood), Untac and I began to converse which didn't end until we stopped running. Talking to each other was not only a way to entertain ourselves but it really made us—at least for me—be really present and active in the moment and the idea of being a global runner.
Half a mile later we came to end of the sandy road and again came to another fork, turning right once more. The path turned back to asphalt and revealed more "shanty-like" houses that were similar to the ones we had previously passed. I continued to noticed how on this street all the houses were the same which really made me want to pay attention to them as we went pass. I noticed from just the three roads I ran on that there was a lot of variation and disparity in Cambodia. In that little section of the neighborhood, I saw different types of roads, very contrasting houses and a woman trying to sell bread on bike.
At first I thought it was just that neighborhood where there was disparity but turning onto to the main road I could see it everywhere. As Untac and I ran along sidethe road—and by running along side, I mean really running alongside as we ran in the street where tuk tuksand motorcycles zoomed past out only a elbow'slength away—I saw how there would be these huge, fancy hotels and then immediately right next to it would be a little section of tin houses or shops. This pattern of a fancy, Western hotel with a gorgeous garden/landscape surrounded by run downshops and tin houses was reoccurring all along the main road. It was quite something to notice this pattern as it seemed really subtle at first, but the more I paid attention the more evident it became.
After a roundabout and another .7 or so miles later, we turned onto a smaller road but one that still had traffic. Throughout this run, I had no idea where we were going but after we turned onto this road Untac informed me that straight ahead was the airport. This was the same airport that we flew into less than 24 hrs before and if you looked closely enough you could've seen the green light of the control tower. I thought it was super neat that I was running t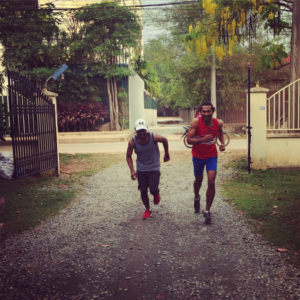 owards the very thing that connects people from all over the world and that it was a simple reminder that I was here on this trip to learn and experience new people, ideas andculture. It made me even more thrilled when I realized I was running towards a global gateway especially with the headlamps along the road lining perfectly up to the airport similar to that of a runway—as I was currently being a global explorer.
After running about halfway along the road to the airport, Untac and I turned around back onto the main road. With 3.31 Miles (≈5.6km) and 36 minutes in total completed, Untac and I arrived back at the Metta Karuna. I was utterly exhausted, not only from the runbut also from being under the bright, hot Cambodian sun. My shoes were covered in the dirt of Siem Reap and my clothes were drenched in sweat. Yet, all this led to an amazing experience I would never have had if Untac had not given me this opportunity. Running in a different part of the world made me realize I want to try this in other countries and continue to cover my sneakers in all the soils the world has to offer.
Yet running around the neighborhood and seeing all the sights Siem Reap had to offer wasn't the best part of the run—conversing with Untac the entire way was really rewarding. Through our conversation, I was able to learn a lot about him (and vice a versa) and I felt like if the rest of the trip was filled with similar conversations (with other people too) then this trip would be something really special. Untac and I talked about everything including what our families were like, what we thought our futures entail, our general life and many other topics. Through our conversation (which was extremely enjoyable and fun), I also learned more about Siem Reap and Cambodia and got a brief "inside" look into what being a Cambodian is like which is something that I really appreciated. With Untac's willingness to share bits about his life and answer my questions about his country, I felt that I got so much more out of that run than just cardio. This run really made me excited for the rest of the day (and the trip) as it was a very cool different way to start the trip for it truly was a proper welcome for a Brooklyn boy.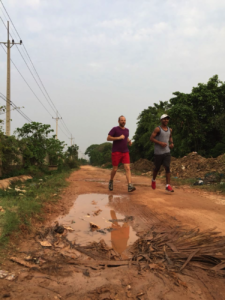 Later runs in Siem Reap included the addition of Mr. Kelly, one of the teacher-chaperones on the trip, and new routes throughout the neighborhood. I really appreciated that running allowed me to explore more of Siem Reap and see more "local" sights than what wereoriginally planned on the trip. I really got a good sense of what a typical Siem Reap neighborhood was like and how the people there went about their daily morning lives. I also got to examine more houses which again varied from street to street. Some streets were a chain of hotels or rent-a-room/houses while other streets were filled with more tin houses with the occasionally "western-style houses". In a few runs through one neighborhood, I was able to see a smaller scale of the disparity present in Siem Reap and see more of what life is like for someone living there.
Thankfully, my adventures with Untac didn't end in Siem Reap. As the group journeyed to Phnom Peng so did my quest to view Cambodia through running. On our second day in Phnom Peng, Untac and I continued our early morning tradition (accompanied by Mr. Kelly). As we were walking to our starting point, I couldn't help but noticed how Phnom Peng was remarkably different to Siem Reap (as one would expect). Instead of lots of open space and open roads as I was used to Siem Reap, I was now seeing tall buildings and tons of congested (and crazy) traffic with tons more people.
Today's run started with a mile along the riverfront. While running I saw countless people doing group aerobics classes with Phnom Peng coming alive in the background. Next, we crossed a bridge to one of Phnom Peng's islands and ran a short loop before returning to the bridge. While on this said island, I saw lots of construction and development (and I mean lots of construction as in it was in every direction I looked). Through Untac, I discovered that a lot of the development I was seeing was the result of a lot of foreign investment. This piece of information made me wonder what the impact would be in the future. On one onehand as with the development of any city, jobs are created and the city grows, but I realized (through conversation with Mr. Kelly and Untac) that most of the money would be flowing out of Cambodia if they were foreign investors. I also noticed that a lot of the development was for hotels and conference centers to most likely be used by tourists and that is wasn't actualdevelopment of the city which really brings the question of who Phnom Peng would be for in the future: the tourists or the Cambodian people that actually live there.
Further into the run (which was a total of 7k if you were interested), I examined how Phnom Peng was more modern and western that Siem Reap as I noticed the infrastructure (sidewalks, roads, street lamps, etc) were better built and more stores looked like those you would find in America. As we ended the run back by the riverfront I realized just how much construction was everywhere around Phnom Peng and made me realize too how much of it I saw it in Siem Reap too. As much as I'm excited to see what all the construction would bring about for Cambodia, I'm also a bit worried for when all that construction is completed.
Big pondering questions aside, I was extremely pleased to complete yet another run in Cambodia with this being in Phnom Peng and further my now tradition with Untac. From this run, I could already tell that the second half of the trip would be as great as the first half and if not better.
As I'm writing and reflecting on all the runs I have had here in Cambodia, I know that I will always remember what I experienced here. This trip showed me that running truly is a global sport and can connect you to other runners all over the world.  I will definitely treasure all the time I spent with Untac as we ran through Cambodia and forever appreciate his unselfish willingness to run with me even if it meant waking up extra early. The fact that I got to run with Untac at all is amazing because he himself is a really cool and amazing individual and I consider myself extremely lucky to have this opportunity. Moreover, I cannot think of a better lens to get a closer look at Siem Reap and Phnom Peng than running. It was super cool to Cambodians going about their lives and see the two cities come alive as I ran through their streets.
Finally, this trip taught me what it means to be a global runner which really changed my perspective on running itself and what it means to be a runner. I discovered that being a runner allows you to instantly connect with so many people around the world regardless of identifiers including language barriers and that running is truly a global sport. Wherever you go—and in my case—you can relate and "run in people's shoes" with the simple act of a morning run. Running is truly something magical and is just one example of how humans share parts of themselves and more importantly their culture. I will forever be grateful With all that I experienced and created memories about while running. I will forever be grateful for all the memories I created and for all that experienced.
Akun Cambodia neungUntac
-Zamien Alard, a simple runner from Brooklyn 
We greeted the day with more bread, honey andrambutans, followed by our quick Khmer lesson. Soon we grabbed our cameras and headed to the PEPY school on our beloved tuk-tuks. There we saw our pen pals again and had an introduction to the PEPY program and education in Cambodia. As partnerswe departed to the local pagoda to begin our portraiture studies of each other. After some successful photography and getting-to-know each other, we returned to PEPY to create an anaphora poem about things we remember, each line starting with "I remember…." Jum reapliyeh, and we bowed in sompeato our PEPY penpals. Tuk-tuks back to the Metta Karuna, and some well-earned rest followed by a scavenger hunt in the Old Market (Psar Chhaa). The winning team, with 18 out of 20 questions correct, got sai'i, a traditional Khmer hackeysack. We concluded the day with nice dinner of green curry, beef, and omnipresent rice.
— Leila Narisetti and Eli Harrell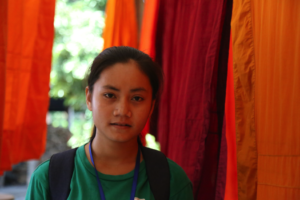 Day 3 Our day began at 6 am, as we woke up to the cool breeze (the coolest it will be all day) that filtered through our open windows, and the squawking sound of roosters. We had our delicious daily breakfast of ramen, bread with honey or jam, and local fruit. We then had a quick Khmer language lesson, and soon after our PEPY parters arrived!
The first thing we did with them was a movement exercise, both in partergroups and as a whole group, designed to connect us to our partners in a more intimate and vulnerable setting. We then created short dances / still picture montages depicting different emotions. Our next activity was a secondround of portraits with the PEPY students, this time aiming to tell a story through the environment in which the photo was taken. Finally, our pen pals taught us to make traditional Cambodian kites using plastic bags, bamboo, and rubber bands; for many of them, this was something that they had been doing since childhood in their villages. After an exhausting ten minutes of running with kites in the hot sun, we said goodbye to our partners,and boarded the bus to go to lunch.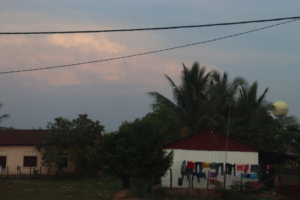 We ate lunch at a beautiful open shaded restaurant, the highlights of which were the curry and iced coffee (much appreciated at this point in the day). After eating, many of us went next door to buy gifts for ourselves and maybe a few foryou readers! We then returned to the bus and took a scenic drive through Siem Reap's country sideto the Cambodian Land Mine Museum.
Upon arrivalwe were greeted by a stocky, American, no-nonsense man named Bill. Bill has been running the museum since 2003 when he took over for the original founder, Aki Ra. The tour began immediately and from the beginningwe were hanging onto his every succinct and powerful word. Bill's knowledge of the Khmer Rouge, the Vietnam War, and specifically presence of land minesacross Cambodia was astounding. While there was simply too much information to be able to repeat, the most striking thing to all of us werethe horrific actions of the United States, and how our role in the Khmer Rouge rise to power and genocide is never spoken of. We left the museum very sobered, a bit shell-shocked, and with a strong urge to do something to help.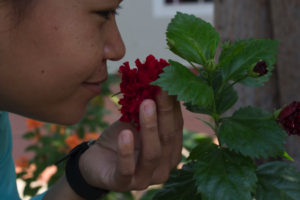 After a quick shower break back at the Metta Karuna, we hopped back on the bus and drove to town for one of our guide's favorite local food spots. The food was delicious as always, and after a few more fruit shakes we were ready to go to sleep!
When we arrived back to the Metta Karuna we had a discussion debrief of the day, focusing on our thoughts of the land mine museum, comparing it to current Syria, and our experience with our PEPY partners. After the discussion we were all exhausted and promptly fell asleep after a very full and engaging day.
— Willa Gilbert-Goldstein and Charlotte Strickland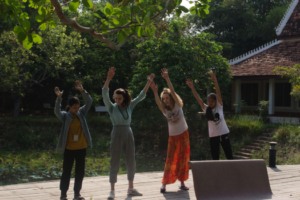 Day 4 It was raining when we woke up, for the first time since we got here. The rain made it a bit cooler, but it was still pretty hot out. This morning we visited our penpals again at their PEPY school. We were given the assignment to decide what the best part of our bodies are and give an explanation as to why we feel that they are the best parts of ourselves. We were then allowed to go into the neighborhood surrounding PEPY and take portraits of each other, focusing on our decided best assets and what they can do for us. It was still raining when we went out to shoot, so we were a little concerned about our cameras getting wet, but after a few minutes of photographing each other, we stopped thinking about much other than the photographing itself. After the portrait project, we were given instructions for starting our documentaries. One group went back to the pagoda we had visited the day before with our penpals and the other group went to a different market, one much bigger than the other ones we had been to. In the market, there was at the very front dozens of vendors selling street food and drinks. The street was full of people doing their daily shopping, buying bread and fruit from people at stands lining the entrance. The inside of the market was a maze of sights, sounds, and smells. There were stacks upon stacks of fabrics, rows upon rows of dresses, and countless cases of gold and silver jewelry. There were school supplies, kids' supplies, and makeup. We interviewed storekeepers with our penpals about their lives and what they sold,and learned about daily life in Cambodia.
In the afternoon, the Packer Collegiate Cambodia group built wheelchairs for disabled people regardless of how their accident occurred (etc. landmines or polio). Bong (uncle) Rith, the man who has led multiple initiatives to rid the world of landmines and help those who were affected by landmines, came to help us build wheelchairs. He was presented with a Nobel peace prize for his work for the disables and landmines. We finished the wheel chairsquickly with the help ofBong Rith. Afterwardswe felt very accomplished having helped build a wheelchair that could allow a disabled person to go outside and explore the world like we can. When asking questions I continued to realize what a remarkable person he is. He asked us why we would want to visit Cambodia, a question none of us had really pondered over, and we answered that we had a real interest in exploring the Cambodian culture and learning stuff that we could not possibly learn in America or a place of western culture.
— Stella Rehbein and Delia Barnett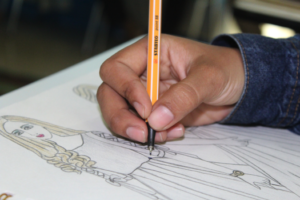 Day 5 However tired we were, we stumbled into breakfast, drawn by the thoughts of succulent rambutan,  crisp bread, and spicy ramen. Even though it was only 7:15 we walked into Khmer class ready to learn; filling our brain with words of food. Lesson completed, we boarded our tuk-tuks and headed to PEPY, excited to spend the morning filming documentaries with our pen-pals. Planning to make the most of our morning, we got ready to head out to either the bustling market or the peaceful pagoda. Most of the groups went to the market (and as both the writers did, we will only describe this). Energetic, chaotic, and filled with delightful snapshots of Cambodian culture, the market was a glorious sight for our American eyes to behold, with entire heads of pigs, knockoff designer clothing, simmering vats of aromatic soup, isles of locally made jewelry, and brightly colored exotic produce; we had a blast exploring, haggling, purchasing, and filming with our penpals. We met back up and went back to PEPY, wrapping up the morning by reflecting on our experience. Reboarding the tuk-tuks we made our way to lunch, chowing down on delicious Cambodian food, and thirst-quenching ice coffee. Then we visited Angkor Park, a beautiful arefilled with the ruins of the old Cambodian Kingdom, for the next hourwe wandered around the ruins of Bayon, Jayavarman 7's state temple. It was a hulking yet elaborate stone building, a true magnum opus of masonry. The carvings along the walls of the temple were stunning, and even as we baked in the Cambodian heat we still were stunned by what we saw. Soaked in sweat, we continued to explore the park, visiting the king's baths, and taking a silent walk through the magnificent jungle. We returned back to the Metta Karuna to take a much-needed shower, ate a simple yet fulfilling dinner, and went to sleep; preparing ourselves for tomorrow's sunrise visit to Angkor Wat.
— Jett Pine and Ethan Rothchild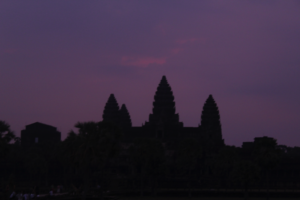 Day 6 Today we crawled out of bed before the sun rose over the Meta Karuna and the birds began to chirp outside our windows. In our silent, drowsy tuk tukrides we got to experience Cambodia wake up and prepare for the day ahead. We saw locals slowly sip their coffee at a local breakfast place, and spotted cars of construction workers zoom through the deserted streets. Although we were tired and hungry, it was all worth it when we finally saw the sun riseover the majestic Angkor Wat.
Through outthe morningwe were given the opportunity to explore the ruins around Angkor Wat independently. We took pictures of aging stones, bought small paintings, and took in the massive structures surrounding us. Then, with our tour guide, we began to learn about the history of Angkor Wat and the many stories that live inside its walls. Without knowing any of the mythology or history, we all
knew that we had walked into something very special and spiritual. Every wall is covered with an intricate engraving and each engraving means something incredibly specific and important in Cambodian culture. As we walked through we were told stories of hierarchy, a kings relationship to the gods, and the significance of certain objects depicted on the walls. By this point in the morning we were fully awake,and in awe of the beauty and rich culture of Cambodia.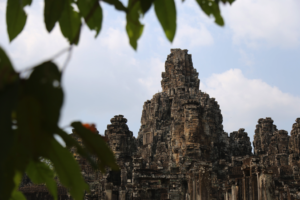 After, our teachers surprised us with free time at a local hotel's swimming pool! For the majority of the afternoon we just sat, read our books, talked, and when we got warm, jumped into the pool for a quick dip. Although I love the packed days in Cambodia because I want to experience as much of the culture as possible within the limited amount of time we have, it was so nice to have an afternoon just to catch up and chill by the pool.
We had an early dinner that night at a restaurant called Haven. While we were eating the delicious vegan food, the owner came out and told us the mission of the restaurant. In Cambodia, many children drop out of school and sell goods or beg on the streets. They do get money from this because they are cute and prey on tourists who don't know better. However, when these kids get older and presumably less "cute", they are left with no education,and no plan for the future. Many of them actually end up leaving Cambodia to find work. While this is still a huge issue in Cambodia, many programs have been set-up to help get kids off the street and back intoschool where they should be. However there seems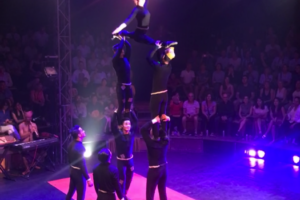 to be a lack of consideration given to those who are already aged out of primary school, and now in need of jobs. Haven's mission is to help the impoverished young adults of Cambodia. They work at the restaurant and develop culinary and food hospitality skills so that they are able to get jobs in the food serviceindustry. It was incredible to see yet another person trying to help Cambodia return to its full glory. Cambodia needs more programs like this because it's been proven time and time again that if these programs are set up, they will be used and valued.
The reason why we had such an early dinner was because afterwardswe went to the Cambodian circus. This was our first real experience with the arts in Cambodia and it was incredible. The acrobats defied gravity and told stories about Cambodia. My personal favorite piece had one performer playing a king, and the other performers attached strings to his hands, head, and feet. The entire dance was them moving around different parts of his body to make him walk, wave, and pray as their human-sized puppet. We may have been tired, but we will never forget the pure joy and sense of hope and resurgence in the Cambodian circus that night. — Lily Crowell
Day 7 A lotus wavers
Uneasy roots break surface
Past bones are today.
Steady ambience pervades the
Together aloneness.
Chirp, squawk, buzz, hum, and cry
Arthropods and their arachnids
At the lowest level spy the
Steadystillness of silenced goodbyes.
— Eli Harrell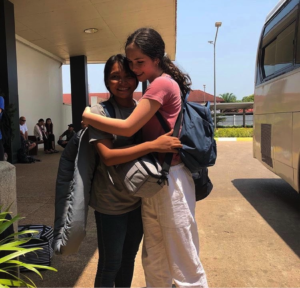 Today is our last day in Siem Reap! While we are all sad to leave the tranquility of the Metta Karuna, we are equally excited to take on the new challenge of Phnom Penh. After breakfast, our PEPY partners came to the Metta Karuna for our final time together. Our main activity was creating a dance that combined typical Khmer dances and typical American dance moves. We first broke into small groups and exchanged two moves from both parties. Afterwardswe regrouped and compiled one big dance using the best three moves from America and Cambodia that we thought of. In the endour performance was a combination of awkward attempts at new moves, cracking each other up, and a pretty cool mashup of cultures. We also taught the PEPY students the "Cotton Eyed Joe" and they showed us some of the dances they learn in school. We also took more "formal" portraits of the partner teams to commemorate all of our time together.
After lunch with our partnerswe boarded the bus with all of our luggage and drove with the PEPY students to the airport. The bus ride was extremely bitter sweetand we were all very touched when our partners began to sing American songs including "Count On Me" and "See You Again" (they also sang a very enthusiastic rendition of "Fight Song" but that was a bit more up-lifting). When we arrived at the airport and faced saying goodbye a lot of us realized just how important our partners had become to us. When the moment to leave was finally upon us, the connection we had forged, bridging our two worlds together, and the time we spent discovering what two kids who had pasts as different as could be, all seemed more momentous than ever. Through all of the initial painful awkwardness, we had created incredibly important connections, and many tears were shed and promisesmade to see each other again.
Security went smoothly, and after a quick forty-five minuteflightwe landed in the capital of Cambodia. The bus ride was a tired haze and we soon arrived at the Frangipani Royal Palace Hotel. We were greeted at the door with cool face towels and refreshing minty drinks. Our initial emotions were shockbecause after a week at the Metta Karuna, although we all loved it, we had no idea we would be staying in a nice hotel! While we all miss the beauty and peacefulness of the rustic Metta Karuna, I think we all appreciate the presence of toilet seats and lizard-free showers (at least for now). We had a relaxing afternoon swimming in the pool and reading,and ate dinner at a cool outdoor Vietnamese/Khmer food restaurant.
Even after only a few hours, it is evident that the city of Phnom Penh is more cosmopolitan, culturally diverse, and happening that Siem Reap. We all fell asleep exhausted and excited forall the new things that this new place will bring!
— Charlotte Strickland
Day 8 The day began with a delicious breakfast on the rooftop dining hall with views of the Royal Palace which we would soon visit. We then leisurely walked through an ornate pagoda decorated with silver elephants and gold arches in which we saw many beautiful kittens and dogs. These majestic arches lead us to the busy streets of Phnom Penh which we bravely crossed to the crowedmarket.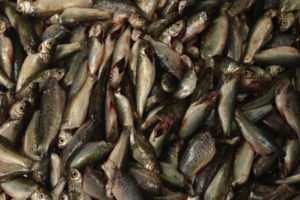 The market was filled with many different items, anything you could think of you could find in that market. We walked through the countless alleys and smelled countless different scents. The smell of catfish and raw meat masked our noses before we entered the colorful section filled with a multitudevegetables and fruit. The baskets upon baskets of food wasoverwhelming. The market ranged from jewelry,to fortune telling, to pig's heads, to waffles.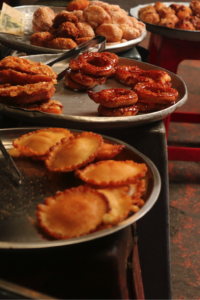 The next stop was the Royal Place where we would get a tour of the grounds. The tour began in the Silver pagodawhich was enclosed by a mural depicting the Ramayana story. Later onwe entered the main temple which was filled to the brim with gold, marble, emerald anddiamonds. When asked, our tour guide informed us that the value of everything in the temple was priceless. We conclude our tour with a discussion of what each building was used for and with a final stop at the miniature Angkor Wat sculpture. 
After lunch, we headed to Cambodia's Olympic Stadium where national teams practice and Cambodiascan come and train on the grounds. We were lucky enough to get a tour by Lucky, a national cycling coach. He talked a little bit about each facility and how there was a soccer filed, basketball court, swimming pool, tennis court, track field and volleyball court. We were amazed by the size of this magnificent stadium. We then collectively joined in on an aerobics class which we all had a lot of fun doing. Then one of our own, Zamien Allard (C '19), had the opportunity to run on the track with withnational team.
— Leila Narisetti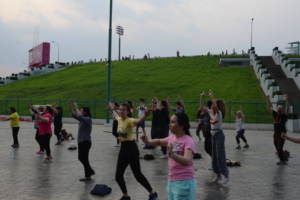 Day 9 In the afternoon, we went to the Olympic Stadium in Phnom Penh for our optional but encouraged sunset aerobics class. I didn't know what to expect – would we be the only ones there, or would it be full of people? Was it indoors or outside? At first, I was hesitant. I've never been the most coordinated, and aerobics didn't exactly seem like an enjoyable activity to me. But when we arrived at the stadium, we saw a group of people, mostly middle-aged women, repeating the movements of one younger woman at the front with a microphone and viserhat. We walked down a long set of stairs and a mass of Packer students joined the fray of Cambodians doing their evening aerobics. Although gracefulmovement has never been my strong suit, I decided to go all in. Instead of standing on the outside with the rest of my Packer comrades, I walked up a bit further to stand next to some people who had been at the class before we got there and threw my heart and soul into the carefully selected movements the instructor had picked to go along with the upbeat remix of early 2000s Pink. We swung our arms and kicked our feet in coordination, and, despite my being out of breath, I tirelessly copied the instructor's movements, adding my own personal flair to the exercise. I had to stop momentarily to tie my shoes a few times, but those pauses didn't dishearten me. If anything, it pushed me forward to jump higher, step with more vigor, and flail my arms with more passion – aerobics was my art, my masterpiece. Sweat was gathering on my forehead and my lungs were screaming for air, but I paid that no mind. The only thing that mattered anymore was the instructor, the music, and the movements. I felt free,like I could jump high and fly away – but of courseI wouldn't want to leave the aerobics class. Colors seemed brighter, the music was in my ears and blood was pumping through my veins. I was completely and utterly in my element. Eventuallymy classmates and I bid adieu to my beloved sunset aerobics class – gone, but never forgotten.
~ Delia Barnett