Saturday, January 12, 2013
Quick Impressions Journal: Vietnam March 2012
By Gabi Safranavicius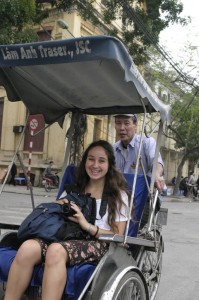 My intention for this piece was not what it turned out to be. I was just another High School student taking yet another opened-ended AP Literature and Language prompt. My intention was to simply address the prompt, to write a narrative of a past memory that had an effect on me. Something broad, and perhaps irrelevant in regards to the rest of the world. But as I wrote my piece, took the shape of the recent lessons I have learned, the shape of the ideas and ideals that I want to share with my peers. It somehow evolved to the things I learned from my trip abroad to Vietnam; took the shape of what Peace Works Travel World has taught me of war, poverty, and polar social complexities coming from different worlds. Morphed from my common day thoughts that cloud the brain and I knew this was the start to my journey of sharing written truths.


Vietnam
Day One
Heavy eyes and empty bellies stepped out of the airport and into the odor clustered air. Time truly became relative and space seemed to slip away, lost somewhere in the crowd of Vietnamese, arms outstretched to welcome loved-ones from far away travels. Surreal steps taken into Saigon, the perfect beginning to an adventure.
Day Two
Tears. Tears and the vacant feeling left after a through dig any remaining morality. War Remnants Museum left me hollow as a spineless book. I feel tortured to be part of a country that could inflict such pain, but the pictures remind me who the real victims are.
Day Three
Day trip to Mekong to see the birthplace of a revolution. Journalist, camera crew, what is cultural emersion? The people at home want to know. We meet Kim Phuc's brother and sister-in-law. We see the site of the bombing. We leave not completely unscathed.
.
Day Four
Vietnam countryside, we learn not every quite sounds the same. We clean our clothes, shop the markets, and ride bikes through the backyards of local people. Peeks of third world life are enough for most, as the bike ride turns into a competition. Which white child can pedal away from poverty the fastest?
Day Five
Hanoi here we come. Air is cloudy from the motorcycles that clutter the thin streets, magnifying the smell of gasoline and fish oil. A perfect retreat to never feel alone. As the days fly by I wonder who to pity more, the starving Vietnamese or the American starving for self-esteem?

Day Six
Day filled with sites. Each landmark tells its story to superficial listeners, grasping for something to brag about at home. Hanoi Hilton, Trấn Quốc, and the Presidential Palace, home to prisoners, monks, and Ho Chi Mahan.
Day Seven
Peace Works Travel Village, school and home for Agent Orange victims. Some of the children leek eminent joy, infecting the surroundings with the contagious smile. Others continue to stare through us, as if to ask, "Haven't you done enough?" We learn that the logistics are simple. We exchange tax dollars for bombs, bombs for dead and disabled, dead and disabled for capitalism, and capitalism for tax dollars. I shamelessly brought toys, as if I could fill the void of expired opportunities these children will never have, with games. They don't understand, that's how we do it in my country.
Day Eight
We take to the crowded streets, time for souvenirs before our flight home. What does one buy to remember a third world country? You can't buy poverty, political corruption, or inequitable circumstances, which only leaves jewelry and various polyester t-shirts. Walking the smog-filled streets I wonder, "Will I miss this place?" Will I miss the dirty, dense air, the fish oil, the congested streets? No. I will miss the smile and gratification of a merchant. The friendly countryside locals. The bashful children, curious, but so outspoken. For these reasons I know that it is the souls of the people that will bring me back here someday.