Thursday, April 4, 2013
Santa Barbara Middle School - Discovering Hanoi
By Daniel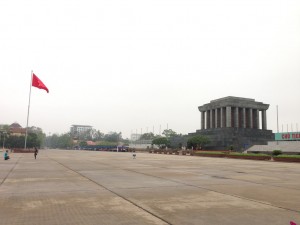 We started off the day with a visit to a Confucian temple, also called "The Temple of Literature." It was filled with young school children, maybe 5 or 6 years old who were on a field trip to receive awards for getting good grades in school. The temple had a beautiful garden that included an intricate array of flowers trimmed to the shape of Chinese prayers. We did not spend very much time there because we wanted to move on to the Ho Chi Minh Mausoleum. We had to dress formally and the girls had to cover their shoulders and wear long skirts. We were not allowed to take pictures out of respect. We were asked to walk in twos and as we walked in there were many guards. The closer we got to the body the guards become more armed. The body was perfectly preserved through a mummification process and it was lit with a sort of eery orange light. After we exited the building we were allowed to take as many pictures as we like, in front of the huge building that was built to replicate Lenin's in Russia. We learned that the mausoleum takes $2 million to upkeep each year. There were massive grassy lawns in front but we weren't allowed on the grass.
We then hopped back on the bus and drove to the Hoa Lo Prison. It received the nickname the Hanoi Hilton because the american soldiers gained a sense of humor about it and though something ironic up. It was built by the french imperialists when they colonized Vietnam. They used the prison to detain Vietnamese revolutionaries. Later the when the Vietnamese gained independence they used the prison to house and torture american military, but specifically pilots that were shot down over Hanoi, for example: John McCain. It was a very depressing and worn out building. The walls were high and topped with broken glass, like barbed wire to keep the prisoners in. They had made wooden statues of Vietnamese prisoners to show you how they were treated. I felt that you could look in their eyes and feel how depressed they were. The whole building had an oppressing feeling to it and we moved on from exhibit to exhibit as fast as we could. After the prison, we left to go to the largest buffet that I have ever been to, but it was full of foreign and exotic looking foods that most of us were reluctant to eat.
After lunch we went to a water puppet show. A water puppet show is exactly what it seems. It had live music and puppeteers conducting different scenes from the rural cultures of Vietnam. It was so boring. Not many of us payed attention.
We were taken to a strange Vietnamese restaurant that has caused Alex to puke and feel very ill. After we reflected in the hotel with some journal writing, the day is ending with a movie in Alex and Ryan's room.
Tomorrow we are going to spend the morning at the Peace Village. A few of us are nervous because we don't know what to expect or how intense it might be spending the day with children who have severe mental and physical disabilities, because of the effects of Agent Orange. I am excited to bring them supplies for their orphanage- we have a big donation for them from money we raised along with soccer balls, bubbles, toys, instruments, art supplies, and soaps/toothbrushes, etc. that we brought with us.
Live Learn Travel,Student Travel Tips,Vietnam Student Trips