Thursday, June 7, 2012
War Photography for Peace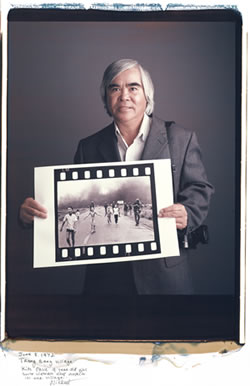 Nick Ut photographed by Tim Mantoani
In May a small group of Santa Barbara high school students gathered in Hope Ranch over nems and Vietnamese curry to reflect on their March tour through Vietnam. Their trip had been extraordinary. Armed with cameras and critical minds, these students revisited the site of the Vietnam War's famous photograph of Kim Phuc (the "Girl in the Picture") with the very man who captured it: AP photographer
Nick Ut
. The photo depicts a naked 9-year old girl as she runs down Route One screaming, her body ablaze from a napalm attack. The picture won Nick Ut the Pulitzer Prize, made the cover of
Life Magazine
and shocked the world by exposing the horrific human cost of war. While in Saigon, ABC journalists
David Ono
and
Jeff MacIntyre
met up with Nick and PWT students to document Nick as they relived the events of that fateful day, visiting Kim's family home, the Coadai Temple and the infamous Route One, where Kim and Nick first met.
Now comfortably assembled in a living room in central California, Nick retold his story and discussed his relationship with photography. Nick recalled the moment of the photograph. Kim was running down Route One away from the firebomb. Here clothes were completely burned off and she was calling out for water. As Kim approached him, Nick put aside his camera, got her water, then rushed her to the hospital. He was worried she would die at any moment and it wasn't until he had secured her medical attention that he returned to Saigon to develop his film. Nick risked missing his deadline to save Kim's life and continued to check on her while she was in the hospital. Today, Nick's relationship with Kim is stronger than ever. "We are like family," he explained, "I call her every week."
But why should we care about photojournalism or Nick's story? Can a picture really galvanize people into peace? For Nick the most important part of his photography is the human aspect, and it's his ability to empathize with his subjects that makes his photos so powerful. Tomorrow (Friday, June 8th) will mark the 40th anniversary of Nick Ut's Pulitzer Prize-winning image. The photo defined the Vietnam War and is still used today to stop the use of Napalm, which is now illegal in most countries, including the United States. As Nick Ut has proven, a camera can be a far more powerful weapon than bullets or bombs. Rather than continuing down a path of senseless destruction, photos have the ability to positively transform the world and stop this trajectory of violence.
The story of Nick and Kim is not one of war, but one of peace. As photojournalist James Nachtwey explained, "In a way, if an individual assumes the risk of placing himself in the middle of a war to communicate to the rest of the world what's happening, he's trying to negotiate for peace. Perhaps that's the reason for those in charge of perpetuating the war do not like to have photographers around." Watching young students look at these images and travel across the world to engage in these questions is perhaps the most inspiring aspect of war peace photography. Nick Ut's image had roused young ambassadors of peace; a generation dedicated to exposing and responding to the difficult and human questions of an increasingly complex world.
Global Education,Kim Phúc Vietnam War Survivor,Peace Works Travel,Political Thoughts