A Cuban Brain Drain, Courtesy of the U.S.
Published November 17, 2014
Secretary of State John Kerry and the American ambassador to the United Nations, Samantha Power, have praised the work of Cuban doctors dispatched to treat Ebola patients in West Africa. The Centers for Disease Control and Prevention recently sent an official to a regional meeting the Cuban government convened in Havana to coordinate efforts to fight the disease. In Africa, Cuban doctors are working in American-built facilities. The epidemic has had the unexpected effect of injecting common sense into an unnecessarily poisonous relationship.
And yet, Cuban doctors serving in West Africa today could easily abandon their posts, take a taxi to the nearest American Embassy and apply for a little-known immigration program that has allowed thousands of them to defect. Those who are accepted can be on American soil within weeks, on track to becoming United States citizens.
There is much to criticize about Washington's failed policies toward Cuba and the embargo it has imposed on the island for decades. But the Cuban Medical Professional Parole Program, which in the last fiscal year enabled 1,278 Cubans to defect while on overseas assignments, a record number, is particularly hard to justify.
It is incongruous for the United States to value the contributions of Cuban doctors who are sent by their government to assist in international crises like the 2010 Haiti earthquake while working to subvert that government by making defection so easy.
American immigration policy should give priority to the world's neediest refugees and persecuted people. It should not be used to exacerbate the brain drain of an adversarial nation at a time when improved relations between the two countries are a worthwhile, realistic goal.
The program was introduced through executive authority in August 2006, when Emilio González, a hard-line Cuban exile, was at the helm of the United States Citizenship and Immigration Services. Mr. González described the labor of Cuban doctors abroad as "state-sponsored human trafficking." At the time, the Bush administration was trying to cripple the Cuban government. Easily enabling medical personnel posted abroad to defect represented an opportunity to strike at the core of the island's primary diplomatic tool, while embarrassing the Castro regime.
Cuba has been using its medical corps as the nation's main source of revenue and soft power for many years. The country has one of the highest numbers of doctors per capita in the world and offers medical scholarships to hundreds of disadvantaged international students each year, and some have been from the United States. According to Cuban government figures, more than 440,000 of the island's 11 million citizens are employed in the health sector.
Havana gets subsidized oil from Venezuela and money from several other countries in exchange for medical services. This year, according to the state-run newspaper Granma, the government expects to make $8.2 billion from its medical workers overseas. The vast majority, just under 46,000, are posted in Latin America and the Caribbean. A few thousand are in 32 African countries.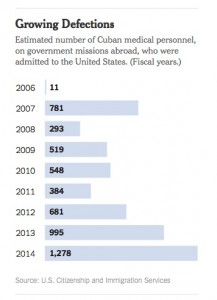 Medical professionals, like most Cubans, earn meager wages. Earlier this year, the government raised the salaries of medical workers. Doctors now earn about $60 per month, while nurses make nearly $40. Overseas postings allow these health care workers to earn significantly more. Doctors in Brazil, for example, are making about $1,200 per month.
The 256 Cuban medical professionals treating Ebola patients in West Africa are getting daily stipends of roughly $240 from the World Health Organization. José Luis Di Fabio, the head of the W.H.O. in Havana, said he was confident the doctors and nurses dispatched to Africa have gone on their own volition. "It was voluntary," Mr. Di Fabio, an Uruguayan whose organization has overseen their deployment, said in an interview. "Some backtracked at the last minute and there was no problem."
Some doctors who have defected say they felt the overseas tours had an implicit element of coercion and have complained that the government pockets the bulk of the money it gets for their services. But the State Department says in its latest report on human trafficking that reported coercion of Cuban medical personnel does "not appear to reflect a uniform government policy." Even so, the Cuban government would be wise to compensate medical personnel more generously if their work overseas is to remain the island's economic bedrock.
Last year, the Cuban government liberalized its travel policies, allowing most citizens, including dissidents, to leave the country freely. Doctors, who in the past faced stricter travel restrictions than ordinary Cubans, no longer do. Some 20,000 Cubans are allowed to immigrate to the United States yearly. In addition, those who manage to arrive here in rafts or through border crossing points are automatically authorized to stay.
The Cuban government has long regarded the medical defection program as a symbol of American duplicity. It undermines Cuba's ability to respond to humanitarian crises and does nothing to make the government in Havana more open or democratic. As long as this incoherent policy is in place, establishing a healthier relationship between the two nations will be harder.
Many medical professionals, like a growing number of Cubans, will continue to want to move to the United States in search of new opportunities, and they have every right to do so. But inviting them to defect while on overseas tours is going too far.

By THE EDITORIAL BOARD  NOV. 16, 2014
President Obama fostering human rights and partnership with Myanmar
Published November 14, 2014
Obama meets Myanmar's Aung San Suu Kyi at home where she was kept under arrest.
Image:  Pablo Martinez Monsivais/Associated Press
BY THE ASSOCIATED PRESS
15 hours ago
President Barack Obama gave a blunt assessment Friday of the need for further reform in Myanmar's move toward democracy, weighing into sensitive controversies over the treatment of religious minorities and a prohibition keeping opposition leader Aung San Suu Kyi from running for president.
Suu Kyi, released four years ago from more than two decades of confinement, is now a member of Myanmar's Parliament but is unable to run in next year's presidential election because of a constitutional rule barring anyone with strong allegiances to a foreign national from standing for the presidency. Suu Kyi's sons are British, as was her late husband.
SEE ALSO: Isolated for half a century, Myanmar is a struggling beauty
"I don't understand a provision that would bar somebody from running for president because of who their children are," Obama said, with Suu Kyi by his side. "That doesn't make much sense to me."
Obama and Suu Kyi took questions from reporters from the back patio of the house where she spent much of her time under house arrest. The two were warm and affectionate in their interactions, sharing a long embrace after their opening statements and joking with each other throughout their remarks.
Obama has been pressing Myanmar's leaders to amend the Constitution, but has been careful to not directly endorse his fellow Nobel Peace Prize laureate as the country's next president. He also raised an issue that has led to criticism for the opposition icon — her reluctance to address the abuse of minority Rohingya Muslims who are deeply disdained by most people in Myanmar.
"Discrimination against the Rohingya or any other religious minority I think does not express the kind of country that Burma over the long term wants to be," Obama said. "Ultimately that is destabilizing to a democracy." Myanmar is also known as Burma.
Obama and Suu Kyi met briefly Thursday on the sidelines of a regional summit in the capital city of Naypyitaw. On Friday, Obama flew to the city of Yangon to hold more substantial talks with Suu Kyi and also toured the Secretariat Building, where Suu Kyi's father, independence hero Gen. Aung San, was assassinated by political rivals in 1947.
Obama had broadly embraced Myanmar's move away from a half-century of military rule, suspending U.S. sanctions and rewarding the country with high-level visits from American officials. But Myanmar has stalled in fulfilling its promises of political and economic reforms, and in some cases has lost ground.
"We shouldn't deny that Burma today is not the same as Burma five years ago," Obama said. "But the process is still incomplete." "We shouldn't deny that Burma today is not the same as Burma five years ago," Obama said. "But the process is still incomplete."
Both Obama and Suu Kyi warned against complacency in the move toward democracy. Suu Kyi described the process as going through "a bumpy patch."
Suu Kyi opened the press conference by addressing reports of tension between the U.S. and those working for democratic reforms in Myanmar. "We may view things differently from time to time but that will in no way affect our relationship," she said.
Obama notably held his news conference on his visit to the Southeast Asian nation with Suu Kyi , not the country's president. Obama said he told President Thein Sein that he will be judging whether reforms are being fully realized first off by whether next year's election is held on time and whether the constitutional amendment process reflects inclusion.
Suu Kyi said it's flattering to have a constitutional provision written with her in mind but it's not how the law should be written. The 69-year-old said she and her supporters are working to change it and welcome Obama's support.
"The Constitution says all citizens should be treated as equals and this is discrimination on the grounds of my children," she said.

Learning Through Travel
Published November 13, 2014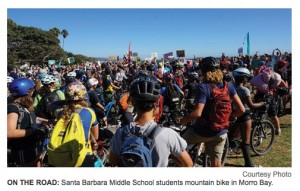 Experiential Programs Go Deep
Thursday, November 13, 2014
by TYLER HAYDEN
There's more to learning than the box of the classroom and the tedium of textbooks, and when students and teachers escape outside, horizons are inevitably broadened. While Santa Barbara schools have long scheduled field trips to Yosemite, Space Camp, and Washington, D.C. — tried-and-true excursions that still hold a lot of value — a new way of breaking up the routine is becoming more en vogue.
"Experiential learning" trips send classes all over the world to turn abstract curriculum into tangible connections ripe for personal growth and college application essays. These programs are admittedly expensive and tend to be more prevalent in private schools, but those lucky enough to take part are stamped with fresh perspectives few other teaching methods can offer. And with new fundraising pushes, the opportunities may soon spread to public school campuses. Santa Barbara is home to a number of these programs, three of which we'll look at here.
Ahead of the school-trip curve since its inception, Santa Barbara Middle School's outdoor program is a cornerstone of its educational philosophy. The school requires that each student go on four outdoor trips a year complete with healthy doses of kayaking, backpacking, or mountaineering and accompanied by most of the faculty and staff. Recently, 191 students and teachers returned to a homecoming party at Goleta Beach after six days of mountain biking in Morro Bay, exhausted but beaming with pride.
"It's absolutely life-changing for these kids," explained Whitney Ingersoll, who's worked at the middle school for nearly 35 years and led trips for 15 of them. "We know what is a challenge, what is going to be hard, and what is going to be doable …. It's Joseph Campbell's hero's journey in real life, and I've seen it so many times for so many generations." Out on the road during truly challenging cycling trips through Sedona canyons, Catalina Island trails, and Marin County ridgelines, students feel as if they can shake off their armor of manufactured "cool" and truly connect with their peers and the grown-ups. No electronics are allowed. Ninth graders often help out the younger students, Ingersoll said, teaching the simple but profound lesson of taking care of themselves and each other. And they figure out that when the going gets tough, they have a reservoir of inner strength to tap into. "It's not corny; it's archetypal," Ingersoll explained. "It's what young men and women need."
Their model has proved so successful that the middle school hosted an ISEEN (Independent Schools Experiential Education Network) conference last year that brought 80 schools from around the world to the campus. There, they learned about the program and heard from administrators about the school's doctrine that Ingersoll summed up: "At this age, kids are pushing against the edges. They're pushing against their parents and looking for mentors. Mother Nature is the best teacher possible."
Last March, Laguna Blanca School's 9th and 10th grades flew to New York City for a five-day expedition that wove through their 1920s-'60s American Decades English course. They toured sites of the Harlem Renaissance, saw where The Catcher in the Rye's Holden Caulfield lived near Central Park, visited the Vanderbilt Mansion and its Gilded Age trappings of Fitzgerald's The Great Gatsby, and capped things off with a night on Broadway to watch A Raisin in the Sun. It was a massive hit, and English teacher Ashley Tidey — who also takes 9th graders to the Gainey Ranch, where they act out scenes from Of Mice and Men — has organized an even more ambitious adventure to London this spring.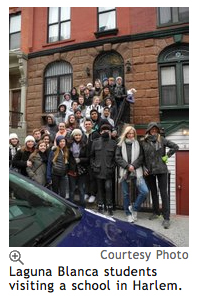 With a curricular focus this time around on the World War I centenary, British modernism, and London theater, students and instructors will hit a special production of Othello at the Globe, take tours of the Tate Modern and Imperial War Museum, and explore neighborhoods like Bloomsbury, Soho, and Kensington. They'll also meet with actors, directors, artists, and professors in the Santa Barbara area to get the "backstory" on London theater and turn-of-the-century Europe. "What I'm trying to do is make the experiential learning not tangential but full of deep currents that intersect fields of art, history, and literature," Tidey said.
Alethea Paradis, a mom, lawyer, and history teacher, was inspired to start Peace Works Travel after 9/11. Already pushing against the "simplistic platitudes of American myth-making," she'd been leading kids abroad since 1998 to help them become active global citizens and "change agents" in countries recovering from conflict. "I learned over the years that social entrepreneurship has replaced community service," she said.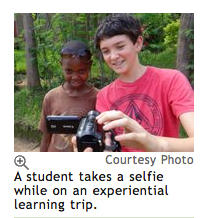 To that end, Paradis and her student travel company organize trips to Cambodia, Cuba, Laos, Myanmar, Rwanda, and Vietnam with a focus on "authentic collaboration" and "long-term investment in communities." They may help a genocide-survivor co-op write a business plan to sell their handicrafts, create a website and social media campaign for a home with Agent Orange victims, or set up a Skype "pen pal" program with English learners. "It's not just the colonial mindset of friendly Westerners coming to dig wells," Paradis said. "We're not doing standard tourist stuff."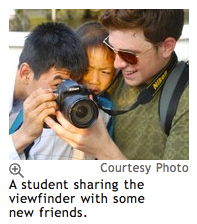 Peace Works Travel has worked with Santa Barbara City College, Dos Pueblos High School, Santa Barbara High School, Brooks Institute, and other campuses in town and has created a small scholarship foundation for those students who can't afford the trips. The company also facilitates fundraising campaigns. A product of public schools herself, Paradis said the trips as a whole benefit when there's a cross section of kids from different economic backgrounds. Lower-income participants are "an effective bridge between the developing world and the developed world," she explained, and they're "more sensitive to the nuances of struggle." And more privileged kids, she went on, come back more attuned to less-fortunate communities. "The kids get interested in solving social problems," Paradis said. "The learning is undeniable."