Thursday, February 16, 2012
A Visit to "The Girl in the Picture" Kim Phuc's Family Home
Francis Parker School – South to North – Day Three
Today was a very fun and eventful day. Our first major event was a visit to Kim Phuc's family's house. However, along the way our tour guide, Mr. Hao, was kind enough to tell us his life story. Like most Vietnamese citizens Mr. Hao was affected by the Vietnam War. He was forcibly enlisted in the Vietnamese army and fought in Cambodia against his father's wishes. Their relationship was shattered by Hao's service time and also their family's house was confiscated. After the war was over, Hao rebuilt his relationship with his father, getting his father's house back. Learning of Hao's story taught us about the social turmoil after the Vietnam War from a soldier's standpoint. Next we arrived at Kim Phuc's house. We watched a documentary before meeting Kim's sister-in-law. Kim Phuc, "the girl in the picture," provided great insight into the path and power of reconciliation. She forgave all those who harmed and managed to transform the atrocities of her scars into a memorial for peace and hope.
After seeing Kim's family, we visited the neighboring Cao Dai temple, which infused aspects of Confucianism, Taoism, Catholicism, and Buddhism. The four religions were combined through the architecture and orientation of religious service. The spiritual leaders of the Cao Dai emphasized the virtues of living a simple life in search for enlightenment.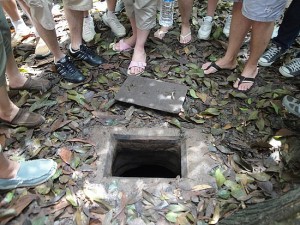 We traveled to Cu Chi to see the network of underground tunnels used by the south during the war. We learned of the tunnels' functions and how they supported the South Vietnamese against the Americans. We also watched a Northern Vietnamese propaganda video that presented a new perspective on the war through the eyes of a communist fighter. The tunnels were awe-inspiring to say the least. Inside the tunnels, there were complex designs consisting of planning rooms, smoke chimneys, air holes, and even underwater entrances. We crawled in an enlarged tunnel, which was fit for Americans. The original tunnels were barely large enough for us larger-framed Americans to crawl through.
The rest of the day consisted driving through the Mekong Delta and celebrated a chaperone's birthday.
—Christine Buckley
Education Travel,Kim Phúc,Kim Phúc Vietnam War Survivor,Political Thoughts,Student travelers,Vietnam Student Trips