Monday, January 16, 2012
Event Reminder: See Kim Phuc speak at the Lobero this Thursday!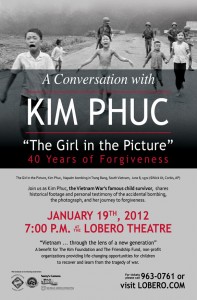 A Conversation with Kim Phuc "The Girl in the Picture": 40 Years of Forgiveness
Thursday, January 19
th
at 7:00 p.m. at the Lobero Theatre (
click here
for ticket information)
Join us as Kim Phuc, the Vietnam War's famous child survivor, shares historical footage and personal testimony of the accidental bombing, the photograph, and her journey to forgiveness. A generation of people will never forget Nick Ut's
Life Magazine
cover image in 1972: President Nixon doubted its authenticity, and historians credit the photo with helping end the Vietnam War. Symbolizing what words cannot convey about the horror of war, the iconic image of "The Girl in the Picture" still instructs us about the impact of photojournalism during a time of war.
This event is a benefit for The Kim Foundation and the Friendship Fund, non-profit organizations providing life-changing opportunities for children to recover and learn from the tragedy of war.
A benefit reception and silent auction with Ms. Kim Phuc will be held in the Lobero Theater Courtyard following the event at 8:30 P.M.
Kim Phúc,Kim Phúc Vietnam War Survivor