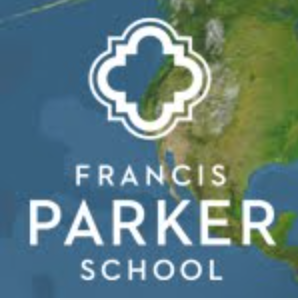 Wednesday, February 18, 2015
Francis Parker Exploring Southeast Asia
Tuesday, Feb. 10: The Road to Recovery
As we piled onto the familiar red bus after another delicious breakfast, Mr. Long, our guide, began to prepare us for our first destination with a little history.
Agent Orange: accounting for nearly twelve of the estimated seventeen million gallons sprayed over Vietnam, the herbicide was one of eleven used by the United States to clear the foilage and increase ground visibility. Named after the distinctive color of a strip on its shipping container, the compound reduced the cover and food available to the Vietnamese Communist soldiers.
Although its suppliers claimed that the herbicide was harmless to humans and the environment, post-war research quickly revealed that such was not the case. The herbicide, which often drenched those hiding in the vegetation and in close proximity and seeped into the soil as well as water sources of the surrounding area, was toxic, and its effects extend to the present day.
Entire areas of land and water were deemed contaminated and therefore unusable. Those directly exposed to the chemical spray developed cancers and painful sores, and in turn gave birth to children with serious health complications, including physical deformities and mental disabilities. Portions of the estimated four million Vietnamese affected were shunned in fear of the unknown—all consequences of Agent Orange.
However, the Vietnamese are not easily disheartened. Support groups and organizations dedicated to helping the victims soon emerged as awareness was raised, both domestically and internationally. Contaminated areas were, and continue to be, carefully monitored by scientists and used to hold the United States accountable for the copious amounts of toxic herbicide sprayed. The Pineapple Village, founded by affected women who were ostracized from their original communities, helped change attitudes as they sold pineapples for a living and gradually regained acceptance.
We had the honor of visiting one such organization with our pen pals from Hanoi University: the Peace Village, or Thanh Xuan.
Upon meeting up with our pen pal friends, most of whom used taxis, public transportation, or motorbikes to reach the destination, we were escorted into a room with residents of the village for a brief introduction by lead Doctor Vu Son Ha.
Since its establishment in 1991, we learned, the Peace Village has provided medical treatment to over ten million people; the Hanoi branch focuses primairly on providing aid to Agent Orange victims. Their educational and physical therapy programs are specifically designed for the needs of the victims, beginning in primary school and continuing as far as vocational training to help facilitate the students' integration into society.
We were welcomed by a few of the village's students with a song called "I Am Not Sad," which was specially composed for Agent Orange victims to help lift their spirits. In response, we sang "If You're Happy and You Know It, Clap Your Hands," which allowed the students to participate by clapping their hands, stomping their feet, and jumping around in rhythm with us.
We were then able to visit their classrooms and interact with the children on an individual basis. Given that most of the children were not able to speak, or disliked doing so, our pen pal friends and we were forced to work together to communicate through other means, including pictures, hand motions, and facial expressions. The residents of the village—although the "village" more closely resembles an apartment complex—were also gracious enough to allow us to try our hands at their embroidery pieces, which depicted countryside scenes and cultural sites of Vietnam. As both Hanoi University and Parker students alike struggled to sew in straight lines, we learned that the ease with which the women worked was something acquired over many years, their techniques developed over several of the pieces that took up to five months to complete. In addition to embroidery, the able residents also learn how to weave pouches, scarves, vests, and even jackets in multi-colored, varying patterns to sell alongside their embroidery pieces, handmade bracelets, and crocheted squares.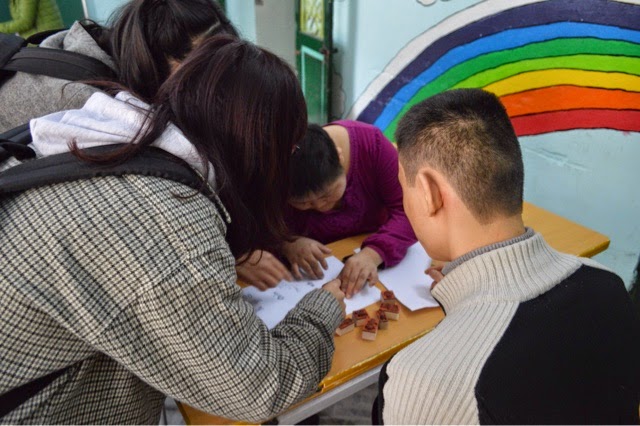 Pen pals from Hanoi University play with several of the children from the Peace Village, showing them how to use the stamps that were donated by Mrs. Hayman's second grade class at Francis Parker. Aside from the stamps, the students from the Lower and Upper School donated a variety of art supplies, a world map mural, and a washing machine.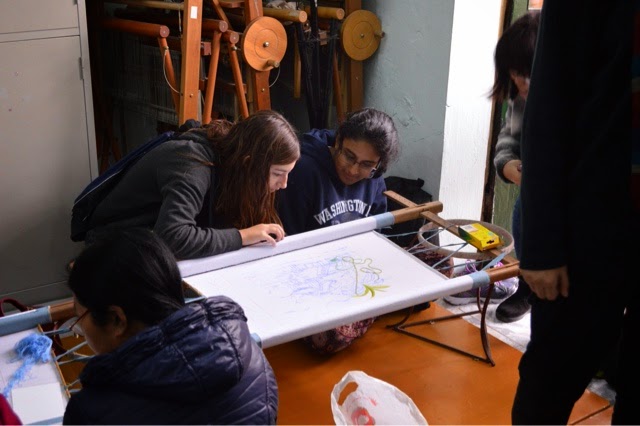 Juniors Simone Tift and Snigdha Nandipati practice their needle point on the machines that the children, affected by Agent Orange, use to create magnificent and unique pieces of art to sell and raise money for the Peace Village.
After bidding farewell to the Peace Village with broken—but improving!—Vietnamese, we enjoyed a traditional lunch of a Vietnamese-style sandwich and bananas, and with the guidance of our friends, we walked off the meal by exploring the surrounding area. We came across another market, and ducked under its entrance into the dark, tented enclosure, shuffling through stalls selling kitchenware and clothes that morphed into produce and shoes became crates of fruit while baskets of hair accessories became cages of chickens, and followed the narrow path for only a couple minutes before exiting back onto the streets and headed to a well-known cafe for a taste of Vietnamese coffee.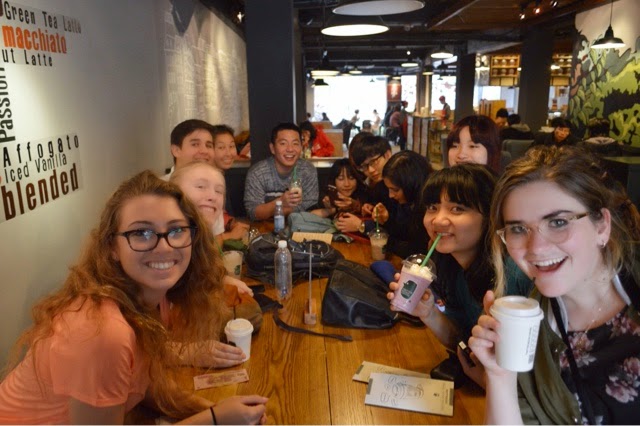 After spending the first half of the day at the Peace Village, seniors Grace Sellick, Emma Sheean, Pedro Gallardo, Sam Pryor, Olivia Ghosh, and Olivia Fidler and their pen pals toured the area and stopped to sample traditional Vietnamese coffee and other specials treats at the Twitter Beans Coffee. A traditional Vietnamese coffee is similar to an espresso but is made with condensed milk.
Suspiciously similar in both color scheme, design, and drink options to a certain American chain, the Twitter Beans Cafe provided us with an opportunity to relax, perhaps a little too much as we lost track of time and found ourselves rushing several blocks back to the bus to arrive at the appointed departure time and make a timely arrival at the family home of one of our very own friends, S'on.
We were dropped off across the street and, using the sticky rice technique, crossed the bustling streets and made our way to his home. His mother and father stood by as twenty-five people crammed into their living room. Assorted Vietnamese candy, sunflower and pumpkin seeds, and warm tea awaited us inside the Giang household, and as we continued coversation with our university friends, we took in the wandering tabby cat, the first feline we saw on our trip, took in the family shrine, adorned with gold coloring for prosperity and luck, as well as fresh dragonfuit, bananas, and custard apples, took in the large family portrait that hung above a cherry blossom tree design that added a personal flare to the gray walls.
As the afternoon turned to evening, we reluctantly parted from our friends from Hanoi University, and we headed off to the final destination, a traditional water puppet show at Thank Long water puppet theatre.
Established by farmers in the eleventh century as a celebration of a good crop, water puppetry became very popular in northern Vietnam as a form of public entertainment. Made from soft wood easily carved by the non-specialized farmers, the puppets were sculpted into many flexible shapes, such as people, animals including foxes, water buffalo, and frogs and mystical creatures like dragons, fairies, and phoenixes. In order to seal the wood and prevent it from sinking, lacquers were developed to add color to the tan coloring of the wood.
However, this art was almost lost after the war and continued to dwindle as the population struggled to stay afloat and, in turn, had little time for entertainment. This trend began to turn around in 1986, when the economy began shifting from largely subsidized to more free market.
As Vietnam opened its borders once again, tourism revived the art and developed into the complex stories and manipulation of puppets we saw today.
As the puppeteers stood in wasit-high water, they manipulated the puppets in front of a bamboo screen. Coupled with live singing and music utilizing traditional Vietnamese strung instruments and flutes, the show was well received and enjoyed.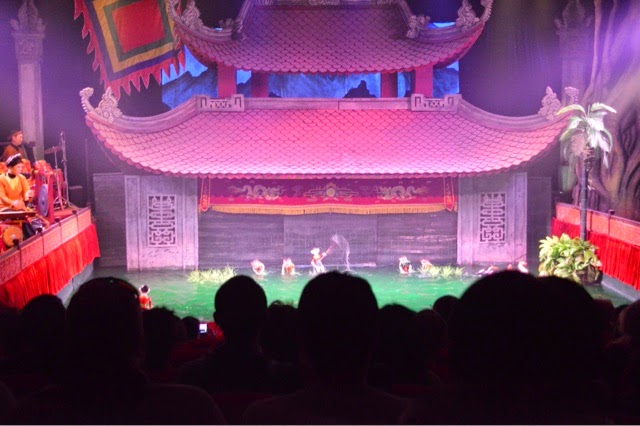 Vietnamese water puppets have been a part of the culture for several centuries; however, the tradition faded away but recently has been brought back to Hanoi due to a rise in tourism.
We ended the group's night at a Western-style restaurant, where we experienced a food with a Vietnamese twist, including pizza, spaghetti lasagna, and grilled beef and french fries, and divided into smaller groups that could choose to explore the hotel's surrounding area or opt to get a head start on the following day.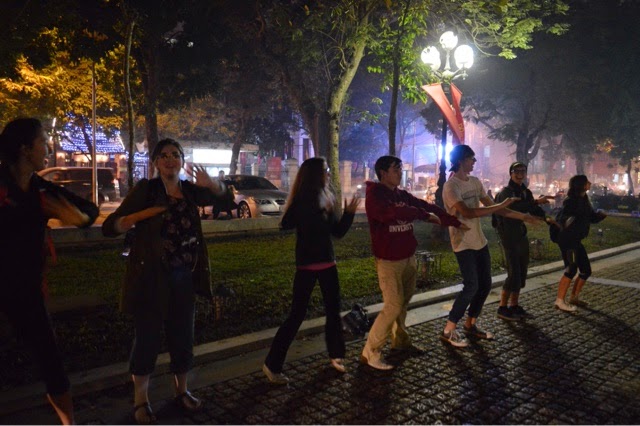 Following dinner, seniors Sam Pryor, Olivia Fidler and Pedro Gallardo and juniors Nicole Keeney, Mitchell Capp, Rex Winn, and Simone Tift went across the street from the hotel to jump in on a dance exercise with local women in the park, listening to upbeat, electronic Vietnamese music.
–Karina Dominguez, Angelica Vera, Grace Sellick
Arts and Culture,Cambodia Student Trips,Education Travel,Educational travel programs,Francis Parker Vietnam - Cambodia 2015,Global Community,Global Education,Peace Works Travel Upcoming Trips,Student Spring break program,Student travelers