Wednesday, February 12, 2014
Francis Parker - Vietnam 2014
Check out the Francis Parker School Blog here.
Welcome to the 2014 Francis Parker School Global Studies trip to Vietnam blog.
Students and chaperones will update the blog regularly as they explore Vietnam.
Check back often to catch up on their latest adventures!
Day 1: Hanoi
Antithesis: "a r
hetorical device in which two opposite ideas are put together in a sentence to achieve a contrasting effect." Although this definition applies directly to literary works, it was a term that resonated within all the sights we viewed during our first day in Hanoi, Vietnam. The juxtaposition of completely different elements of a single culture immersed us in a world few of us had ever encountered. Our senses, our judgments, our expectations–all were tested within the beginning hours of travel to the jewel of Southeast Asia.
Our first encounter with such a contrast occurred on our fourteen hour flight to Taipei, one that began at 12:00 a.m. on February 9th. Served by attendants who gave us the options of Chinese cuisine, we entertained ourselves with American movies and television shows. Intercom instructions were given in Mandarin, Cantonese, and English as we made our way towards our destination and continued to be given in Vietnamese as we transferred to our flight to Hanoi and landed at about 9:50 a.m. on February 10th.
Aside from the signs written in Vietnamese, the Hanoi airport presented us with only a glimpse into the culture of Vietnam. It was our bus ride from the terminal to the hotel, however, that gave us the greatest persepective. While we took in the skyscrapers against the foggy horizon, we gazed down at people using their water buffalos to plow their fields, perpetuated in a practice that originated centuries before. While we observed factories with names like "Yamaha" and "Panasonic" plastered on the fronts in huge electrical lettering, we witnessed the prized Vietnamese tradition of the water puppet performance. While we ate at a popular North Vietnamese Pho food chain restaurant, we took in the delectable scent of authentic cuisine that seemed to live in every part of the city. While we passed by shops bearing western designer items like Louis Vuitton and frantically avoided motorcycles coming from all directions of an intersection, we saw families participating in their daily practice of selling fresh produce on the street during our rickshaw tour around the city. Even our dinner was a buffet that consisted of more than one hundred types of food, portraying the influences of multiple countries from all over the world.
The presentation of such dramatic differences in Vietnamese culture just moments after our arrival sent us deep into the heart of Hanoi, a rapidly changing international center with a current population of 6.5 million. Each person we encountered presented us with a new story to add to the identity of the developing city. Our tour guide, Alex, portrayed the economic revolution that was occuring right before our eyes while our rickshaw drivers revealed the deeply embedded traditions that had managed to survive through the past few years of growth. We witnessed the old and the new, sometimes side by side, engaged in an anachornistic fusion that seemed to permeate throughout Hanoi and exist within the people themselves.
"Antithesis" is often used in literary works to provide excitement for the reader; it uses contrast as a form of art to provide perspective. Perhaps Hanoi itself is also a work of art, a city forming its identity around the cultural differences it holds. With each new experience, we will contribute to its diversity and gain new insight. Although our time in the city thus far has been brief, we know that each moment spent here will only bring us closer to the unique character that is Hanoi.
Day 1: Photo Highlights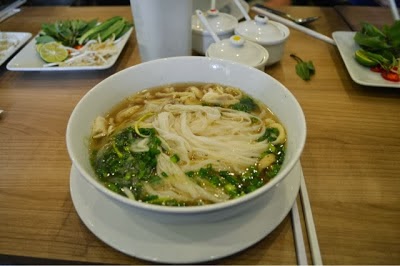 A light lunch of beef or chicken pho.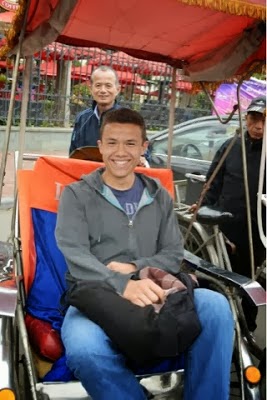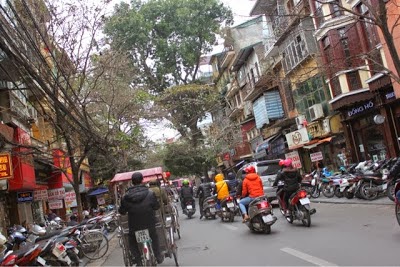 On our afternoon rickshaw ride, we saw vendors selling cellphones, preparing livestock, and showcasing their homemade jewelry while we weaved through hundreds of motorcyclists through the streets of Hanoi.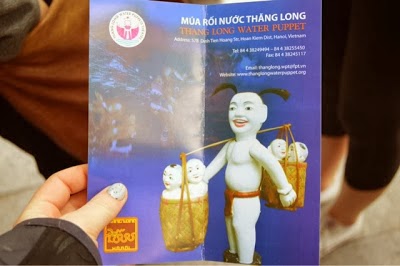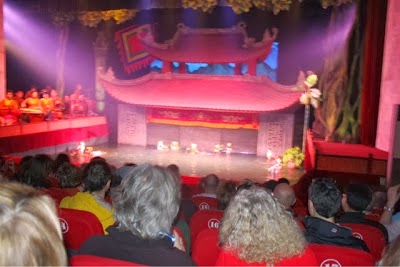 At the water puppet theater, which dates back to the 1940s, we shuffled into a theater full of tourists from around the world, and were treated to a show displaying Vietnam's sacred animals (dragon, unicorn, tortoise, and phoenix) intertwined with themes of nature, unity, and hard work.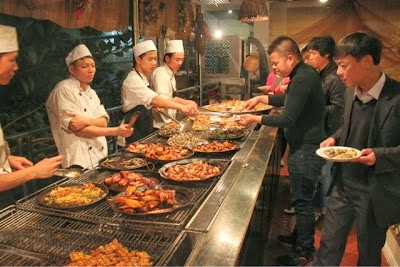 At Hanoi's largest buffet restaurant, o
ur stomachs were treated to a wide variety of pork, chicken, shellfish that was fried, steamed, and sautéed in every which way we could imagine. For the more daring, we could try alligator, pig heart, or escargot.
–Chris and Hannah
Education Travel,education travel programs,Educational travel programs,Francis Parker Vietnam 2014,Global Community,Live Learn Travel,Peace Works Travel,Vietnam Student Trips