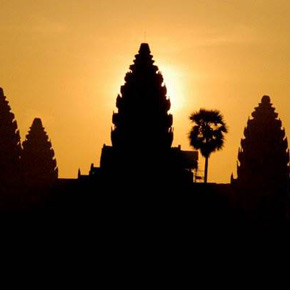 Wednesday, April 8, 2015
Funding Boost for Cambodia's Hero Mine-Detecting Rats NGO
BY SIMON HENDERSON | MARCH 17, 2014
The Belgian demining NGO APOPO, which is pioneering the use of mine-detecting rats in the former battlefields of Cambodia, has received funding from the German government to expand its mine-clearance work in the country.
In November, the government gave the green light for APOPO to begin testing highly skilled African Giant Pouched Rats—nicknamed Hero Rats—on Cambodian soil.
Hero Rats have achieved noted success over the past four years in sniffing out thousands of mines and unexploded ordnance (UXO) in Mozambique and Angola.
Germany's funding will help the NGO deploy 180 specialists in Oddar Meanchey and Siem Reap provinces to work alongside the Cambodian Mine Action Center (CMAC), the organization said in a statement.
"Funding from the German Federal Government will go far to help mine impacted communities and help rid the country of these deadly weapons. We look forward to working with our partner CMAC for this effort," said Kim Warren, country director for APOPO.
Over the past decade, Germany has provided over $15 million to Cambodia to support mine clearance operations.
Its decision to back the innovative Belgian NGO and its Hero Rats project reflects its ongoing commitment to helping Cambodia achieve the targets set by the 2010 to 2019 National Mine Action Strategy, the statement added.
The value of the grant was not disclosed, but last year Germany pledged $391,467 to APOPO's demining activities in Thailand along its border with Cambodia, while last month it committed $359,940 to the NGO's demining efforts in Vietnam's central province of Thua Thien-Hue.
Mines and UXO have killed more than 19,000 Cambodians and injured about 45,000 since the fall of the Khmer Rouge in 1979, and though the country is lauded internationally for its demining efforts, much work remains to be done.
Landmines and unexploded remnants of war killed 22 people and injured 111 more last year, according to figures from CMAC.
Ten Hero Rats are in the final phase of training at the organization's research center in Tanzania before being sent to Cambodia to begin acclimatization and performance tests, according to APOPO.
A team of Cambodian recruits will soon be trained to lead the rats on their first missions outside of Africa.
© 2014, The Cambodia Daily. All rights reserved. No part of this article may be reproduced in print, electronically, broadcast, rewritten or redistributed without written permission.
Cambodia Student Trips,Education Travel,education travel programs,education travel tours,educational field trips,Educational travel programs,free travel for teachers,Global Community,Global Education,Live Learn Travel,Peace Works Travel,Peace Works Travel Upcoming Trips