Tuesday, January 31, 2012
Photographer Nick Ut to Travel to Vietnam with Peace Works Travel!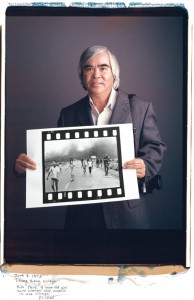 If you heard Vietnam War survivor Kim Phuc speak at the Lobero on the 19
th
, you'll remember the heartfelt words she had for the photographer who captured the iconic image and saved her life. That Pulitzer prize-winning photographer was Nick Ut, and he and Kim remain close friends to this day (Kim speaks of the value of their friendship in her life in
this recent interview
with the Santa Barbara
Independent
).
Now, with the 40
th
anniversary of the photograph "The Girl in the Picture" approaching this summer, photographer Nick Ut will travel to Vietnam in March with
Peace Works Travel
, where he and students on the trip will revisit the site where the photograph was taken. The trip will be documented by video journalists from ABC News, who plan to put together a documentary on Nick, Kim, and the photograph that changed both their lives.
Click here
and scroll down to see Nick included in a compilation of photographers and the images that made them famous, and stay tuned for more information about the documentary and trip this spring!
Kim Phúc,Kim Phúc Vietnam War Survivor,Peace Works Travel Upcoming Trips,Student travelers,Vietnam Student Trips