Wednesday, January 25, 2012
One Week Later: Local Students Share Their Impressions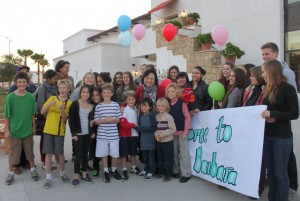 One week after meeting Kim Phuc at the Santa Barbara Airport and hearing her presentation at the Lobero Theatre, local students emailed us at Peace Works Travel to share their respect for Kim and tell us their impressions from the event. Here are a few we'd like to share:

Said Santa Barbara High student Thalia Chavez, "There so much to say about Kim: her speech was incredible. It reminded me and many others about how important it is to forget the past in order to bring peace to our community and world, and that this is an important action that people often forget to act upon. Kim told her story beautifully–she described her feelings of the past and present in great detail, and I appreciate her for expressing herself with no fear."
Wrote high school senior Katie O'Brien, "What truly hit me deep down was the fact that Kim hated that picture of her when she first saw it the days after the bomb, yet this picture has impacted her life so much. I don't know how she did it: it must take incredible strength to stand up there and re-live that day, especially seeing the look of horror on her face in the picture."
Said Emma Craine, an 11th grader from Dos Pueblos, "I was most struck by how strong and confident in herself she is now, and how hard she had to work at forgiving all the people who had done her wrong."
Many thanks to all the students who supported Kim by attending and volunteering at the event–we could not have done it without you!
Kim Phúc,Kim Phúc Vietnam War Survivor,Peace Works Travel,Student travelers