Tuesday Travel Tip ~ HOW TO BE SMART, SAFE AND NICE DURING HOLIDAY TRAVEL
Published December 20, 2011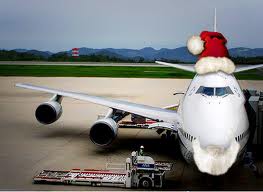 With an estimated 91.9 million Americans traveling farther than 50 miles from home this holiday season, there are no shortage of travel advisories designed to help the people who help us along the journey.
But sometimes, these recommendations are insultingly obvious.
AAA tells us to "get on the road early."
Police tell us to "make a plan."
The LA Times article "Advice for the holiday traveler" reminds us: "TSA rules are inconsistently applied" so… "Be nice to airport personnel"
Besides the suggestion to avoid cell phone reliance for all planning, emergencies and directions, there are a few more-than-common-sense strategies out there which are actually quite helpful. Peace Works Travel has culled some bits of this wisdom to help us stay safe and enjoy the ride.
How to anticipate kid-centered family-travel stress (that makes parents and passengers "not-so-happy")
Jeremy Branham, covers "Holiday travel tips for Traveling with kids" and on his website Budget Travel Adventures.
For college students embarking on a study-abroad adventure, UC Berkeley thinks of your health:
"Helpful Health Hints For Students Studying Abroad"
Tell the Feds where to find you in an emergency abroad:
Smart Traveler Enrollment Program
Airplane Advice for both the young and old:
How to be appropriate on an airplane: Wiki How and Real Simple Tips on Travel Etiquette:
"How to Practice Airplane Etiquette"
"Your in-flight guide to keeping the peace with fellow passengers."
Ezine Articles
Best Foods to Take on an Airplane
Independent Traveler's "Foods to Avoid Before Flying"
And advice on what not to wear on an airplane: "Five Things You Shouldn't Wear on a Plane"
And most importantly…. USA Today gives tips on How to sleep on an airplane . . .
Tuesday Travel Tips – Acts of God and Terrorism: How to prepare for the unforeseeable or highly unlikely events?
Published December 12, 2011

Visit the Central Intelligence Agency's
International Travel page
Cross reference all of the health and safety information you have gathered from the research we recommended in our previous post "Health Preparations – One size fits a few, but not you". Register for the
Smart Traveler Enrollment Program
(STEP) so the State Department knows your plans, can communicate with you in case of an emergency, and advise the local embassy of your needs. Obtain travel insurance which includes emergency evacuation services.
Conditions Change, Stay Flexible: One month before the elite travel magazines touted the Roman-esque beauty of Libya's ruins for a "must-see" experience, Tripoli erupted in the bloodshed which ousted 50 year tyrant Mohammar Kaddafi. Make sure that you are following local conditions on the ground in terms of weather, politics, and disease. Setting "Google" alerts with your destinations as the monitored topic is a great way to inundate your inbox with quality information. Much of the content will be irrelevant to your fears and preparations, which keeps reality in check: more often than not, ordinary life is carrying on as usual in the place of your next adventure.