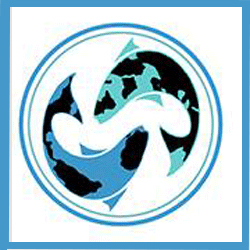 Monday, September 9, 2013
California Students Document the Aftermath of the U.S. "Secret War" in Laos
Bomb craters create stagnant ponds, often harboring
water-born diseases, in Laotian farming villages.
In spring of 2013, a group of 13 aspiring video journalists from Harvard-Westlake School in Studio City, California, spent ten adventurous days in Laos immersing themselves in the culture, volunteering at preschools, and interviewing cluster bomb victims. Forty years earlier, the U.S. military ceased its air war in Southeast Asia, but in the present, unexploded ordnance (UXO) accidentally detonates and maims or kills a Laotian farmer or family member once a day on average. An estimated 80 million "bombies," each about the size of a tennis ball, are still "live" today. The students returned home determined to publicize the victims' stories through video, writing, and visual art, thus giving voice to an innocent people still living under the shadow of the Vietnam War.
Student tosses an inert "bombie" into the air.
Playing with found objects (some are still "live")
maims many Laotian children every year. Note the
old mortar shells used as banisters in the background.
The trip was hosted by Give Children a Choice, and operated by Peace Works Travel, an experiential learning abroad program. How did a unique study- travel program like this—one that involves high school students and such a somber topic—come about? It began in 2005 when Alethea Tyner Paradis, then a history teacher, founded Peace Works Travel to give her students an immersive educational experience that was lacking in mainstream youth tours.
"In 2005, with U.S. troops stationed in Afghanistan and Iraq, the world was reflecting on 'the lessons of Vietnam," said Alethea. "It was the 30-year anniversary of the fall of Saigon, and it occurred to me that our nation hadn't learned many important lessons from our controversial military adventures in South East Asia." Alethea developed an integrative program that invites students to understand war– and the benefits of diplomacy and negotiation—from the perspective of people who live with war's aftermath. The first trip was to Vietnam, and the program expanded to include Cambodia, Laos, Myanmar, Cuba, and Rwanda. Alethea directs Peace Works Travel and related activities year-round.
At a safe distance, students detonate cluster bombs that are
surrounded by sand bags. Both students wrote reflection
pieces describing this experience.
Harvard-Westlake's Visual Arts Chair Cheri Gaulke and Emmy-award winning journalist Jeff MacIntyre chaperoned the 2013 "Laos Investigative Journalism Adventure," teaching video-recording, interviewing skills, and editing techniques on site. Staff from Give Children a Choice accompanied the group from the arrival in the Laotian capital of Vientiane, through bomb-ravaged Xieng Khouang Province, to the serenity of scenic Luang Prabang. Students interviewed UXO survivors, walked the safe zones along a cluster-bomb-infested agricultural field, observed a bomb- clearance team at work, and participated in the clearance process. Juniors Kayla and Hana assisted with detonating the bombs (see photo) from a safe distance of 0.75 mile.
Laotian child and American student play patty cake.
Students are now editing their documentary films, with a planned screening at Harvard-Westlake School in October 2013. They've committed to advocating for UXO clearance efforts and to helping families directly. For example, the students met Mr. Ye Lee who, while working in a field, lost both of his legs to a hidden cluster bomb. After hearing his story, the students were determined to raise funds to help him purchase equipment and supplies for the family farm.
At dawn, students offer food to monks, who rely on
charity as part of their vows of voluntary poverty, in
Luang Prabang.
Students interview and get to know some villagers,
including those who have been injured by UXO.
Students from more than a dozen schools have participated in Peace Works Travel since 2005. The cost ranges from $2,500 to $4,100 per traveler, depending on days of travel and group size. Teachers travel free when accompanied by eight or more students. Visit www.peaceworkstravel.com and www.givechildrenachoice.org. Email queries about upcoming trips to Alethea Tyner Paradis at Alethea@FriendshipToursWorld.com.
Education Travel,education travel programs,education travel tours,Educational travel programs,Global Community,Global Education,Laos Student Trips,Peace Works Travel,War