Tuesday, February 21, 2012
Community Service and Cultural Exchange at Peace Works Travel Village
Francis Parker School – South to North – Day Eight
We awoke this morning to familiar faces. Our dear friends on the North to South trip came to our hotel for breakfast before their flight Ho Chi Minh City in the South. It was refreshing yet awkward to see these relative strangers. Shortly after the other group left, our dynamic pod, led by the one and only Eric Taylor, once again was immersed into a day full of activity. First on the list was a Water Puppet Show, which was within walking distance from our hotel, the Imperial.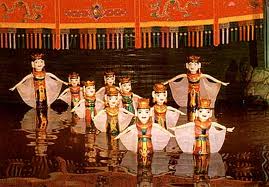 The Puppet Show was very professional and entertaining. To begin the show, the orchestra, comprised of about eight people, began to play a few pieces. The musicians were very skilled and played notes in key and were very precise with their strokes. Then the Puppet Show began. It was like nothing we had ever seen before. This extraordinarily unique experience introduced us to an art form that is neglected by Western Society but is truly beautiful. Basically, breaching the surface of a man-made water area were puppets who, controlled by puppeteers in the back, created scenes describing Vietnamese life and the country's rich history. Vietnamese culture poured out of this piece and we were all moved by the show. We then, after some much needed free time, went to lunch. This lunch was unusual. We had a buffet and were exposed to American food for the first time since we left. It was filling and enjoyable. (David and Max ate a really hot pepper).
After lunch, our group headed outside the city of Hanoi to the Peace Works Travel Village, a community built by Vietnam War veterans from both America and Vietnam to shelter individuals affected by the chemical Agent Orange that was sprayed by Americans during the war. At our arrival to the village, we were led out to the community's garden where we helped prepare the soil for future gardening. The work was not easy, but a few hours of labor turned out to be quite rewarding, 
considering that most of us had never worked out in a garden for longer than ten minutes before today.

 Afterward, our group went to the other side of the village to meet with Vietnam War veterans. Of course, we couldn't directly converse with the veterans, but our tour guide Quan translated for both us and the veterans. We asked questions about reconciliation and what the veterans think of America today, but most of the answers that we heard seemed to steer away from our questions, whether because the veterans didn't want to answer our questions or because our questions weren't translated fully. The veterans' answers revolved around forgiveness and accepting the past for what it was. Though the language barrier was surely frustrating for both sides of the conversation, overall, our exchange with the veterans was surreal considering that in 
America, we hardly get to see the other side of a conflict. 

As soon as we left out discussion with the veterans, we were greeted by a few kids staying in the village and a group of high school students from the Czech Republic. We played a quick game of soccer and socialized with the kids before loading onto the bus and heading to a nice French inspired restaurant for dinner. Our food was delicious and we can't wait for another wonderful day in Hanoi tomorrow.
— Jennie and Josh
Education Travel,Student Community Service,Vietnam Student Trips