Monday, February 20, 2012
Hiking, Water Buffalo, Rice Paddies & Karaoke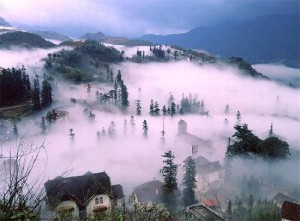 Francis Parker School – North to South – Day Six
Friday morning was slow. Everyone got up at different times to explore the town and to get breakfast. It was nice to observe the cloudy covering in Sapa before the tourist activities started. We met up again before lunch and checked out of the hotel to embark on our hike down to the village of Tavan. The three hour trek down the mountain side through the mud and mist was a good time for us to discuss our best experiences so far. It also allowed us to talk with the Hmong women who followed us for miles trying to sell their handcrafted clothing and bags.The Hmong people speak English fairly. It isn't surprising given how many times they have practiced heckling tourists like us.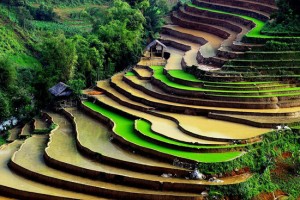 Walking through the village we saw water buffalo's, pigs, chickens, and dogs roaming freely from house to house. Each home was placed on a rice paddy terrace, which made for an amazing view. Since summer is the growing season, the tiered planting ledges were flooded with water.
Eventually we reached a local school where a few of the students engaged in a game of soccer. Then, just before dinner, we arrived at our homestay. It was a two-story house with the living room, kitchen and a few beds on the bottom floor. The top floor was filled with mattresses and mosquito nets. The students found their spots on the floor and we passed time playing games and telling stories. The family who owned the house was very accommodating and the dinner they prepared for us was delicious. Their two young children found a particular liking for Patrick Riley's good company, Ross's iPhone, and Mrs. Imbimbo's Elmo stickers.
After we ate, we went back up stairs to continue our gaming. Soon, we were interrupted by the blaring sounds of a 1980's Karaoke machine coming from downstairs. We spent the rest of the evening swapping off mics and singing classic tunes. Just as we started to dive in to singing The Beatles, a few drunk Danish tourists joined our party. Their performance was so poor we had to kick them out. After countless attempts at scoring a 100 with songs like "Bennie and the Jets" and "Piano Man," Maddie, Solia, Ross, and Mr. Crowley finished off the night with a perfect score singing "Sweet Caroline."
A good 30 minutes later, our singing falsettos could still be heard fading into the night. A slow day in the countryside was a nice change from the bustling city life in Hanoi and the nagging vendors in Sapa. Our night in the village allowed our group to bond and acknowledge the happiness in a simple lifestyle.
Our tour guide, Alex, has continued to enlighten us with his jokes, while still relaying useful information about the history and culture of Vietnam. We really do not want to leave him as we will soon head south to Saigon.
Ross, Solia, Matsuo, Collin
Global Community,Live Learn Travel,PWT Guest Bloggers,Student travelers,Vietnam Student Trips