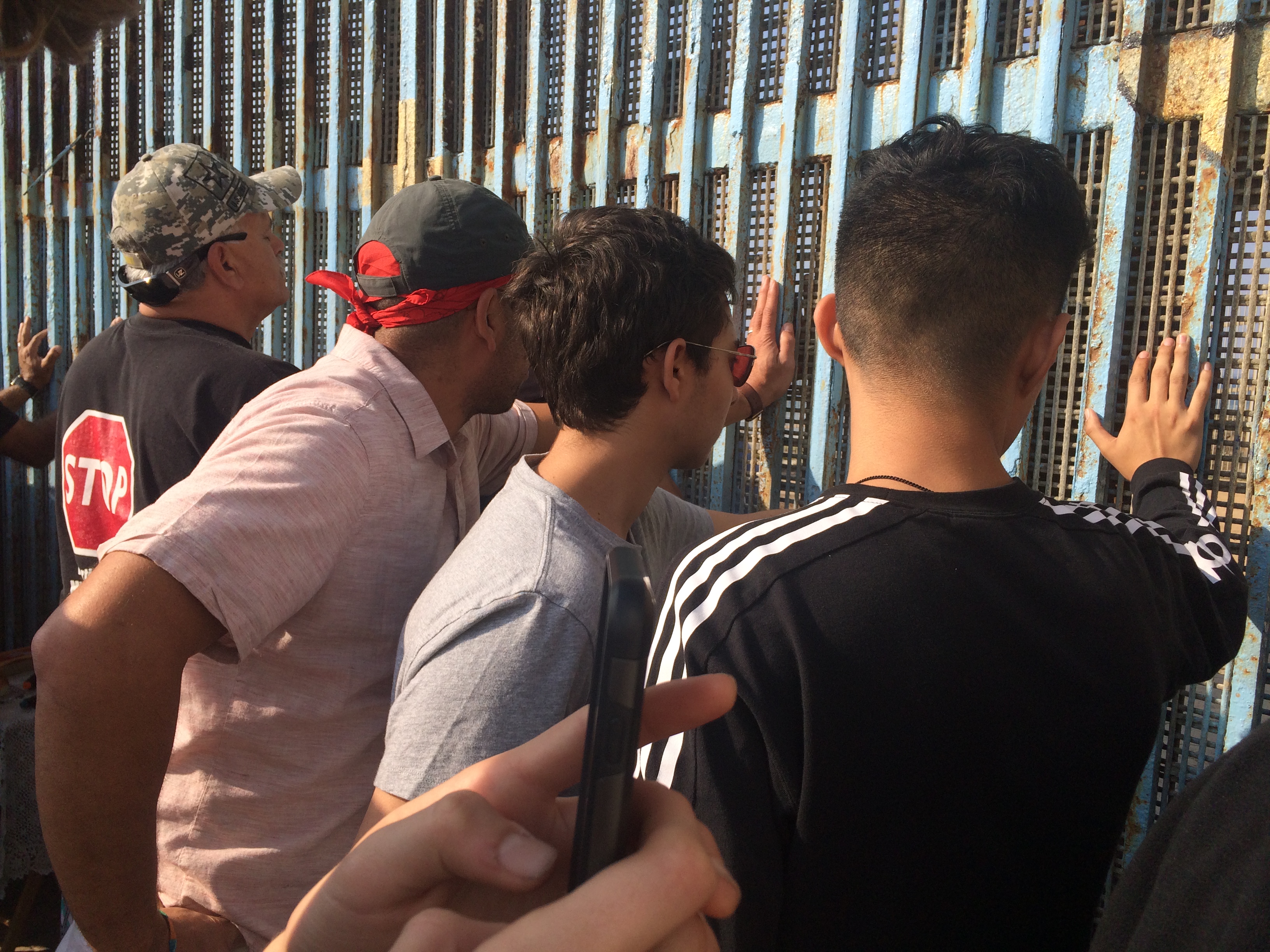 Tuesday, November 20, 2018
Crossing Borders: On The Record
November 2018
'

Thank you

'

is the best prayer that anyone could say. I say that one a lot. Thank you expresses extreme gratitude, humility and understanding.
– Alice Walker.
It's been a week since we returned from our Veteran's Day Crossing Border's Program.
I'm still stunned.
By the open curiosity in our students' faces. Their willingness to explore a topic – the U.S. – Mexico border with such passion, with such concern, critical thinking and compassion. What are you doing for the long weekend? I'm in Tijuana to document stories of people affected by the current issues facing humans separated by policy and walls. Oh wow. Isn't that dangerous? Um. No.
Yes. You may record me.
By the desperation of Central American people seeking asylum: to share our story with complete strangers with cameras? Declare our intention to seek asylum for our treacherous journey from El Salvador/Guatemala/ Honduras/Haiti? Living in a Tijuana shelter and cross into the U.S. where we'll live in a church while awaiting a new life/ a new Presidential administration / a new opportunity or the birth of our in-utero twins?
Yes. You may record me.
By the conditions of workers in the Maquila factories:hundreds of those who see no option but to labor in automated industrial hell, to produce the material goods the wealthy U.S. takes for granted and consumes with reckless abandon. For those activists who work under great threat without pay to pursue justice for those who work under great threat with [almost] no pay. Your heroism is documented and duly noted.
Yes. You may record me.
By the courage of those who stand on the side of love: get married at the Friendship Park bi-national church service? To bear witness in front of Mexican and U.S. authorities to the power of loving commitment to transcend all ills? Allow teenage filmmakers to photograph evidence of the Honduran groom's former gang membership and the bride's hopeful terror that the best option – for now, not forever — is to leave her children behind?
Yes. You may record me.
By the patriotism of Deported Veterans on Armistice Day. Those who have fought in America's wars, dedicated their lives and those of their comrades to defend the Pentagon directives, and yet live in exile for the crime of paperwork and PTSD. Disgraceful. Makes me ashamed to hold a U.S. passport.
Yes. You may record me.
By the generosity of activists who work to provide support for the hungry, the homeless, the harangued. All human. Call them Caravanners. Call them foreigners. Call them alien. So long as conditions in countries of origin remain intolerable. There will be more. And more response of heart will be required of us all.
Yes. You may record me.
The photographs herein are but mere glimpses of kindness on display from Peace Works Crossing Borders Veteran's Day 2018. The showcase of student films generated from this program will undoubtedly display more nuance and delicate narrative of testimonial brilliance.
Until then, please know that we all have something to give. We can all find a way to be of service, to offer, to donate, to extend a hand of grace.
Facts matter. Love wins. It's on the record.
Photo Gallery